5 Dog Training Tips Every New Owner Needs to Know
Whether you're bringing home a puppy or adopting an older dog, stepping into the world of dog ownership can feel a little daunting at first. Fortunately, when it comes to training, we've got you covered – here are five dog training tips that will make life as a new dog owner so much easier.
Start as You Mean to Go On
Allowing your new puppy to climb all over you to cover your face in sloppy kisses may seem cute now, but chances are that you'll feel differently in a year's time. Jumping, mouthing, pawing, excessive licking – these behaviors aren't so cute when repeatedly performed by an adult dog.
The same applies to those taking on an older dog. Let that counter-surfing or fence-jumping incident slide and you'll be dealing with some serious issues in the long run.
This is why setting your boundaries right from the start is one of the most important dog training tips you'll learn.
Each time your new dog does something, ask yourself if that behavior will still be acceptable in a couple of years. Is the answer no? Then don't allow that behavior to continue, no matter how adorable or funny it may seem at the beginning!
Learn What Motivates Your Dog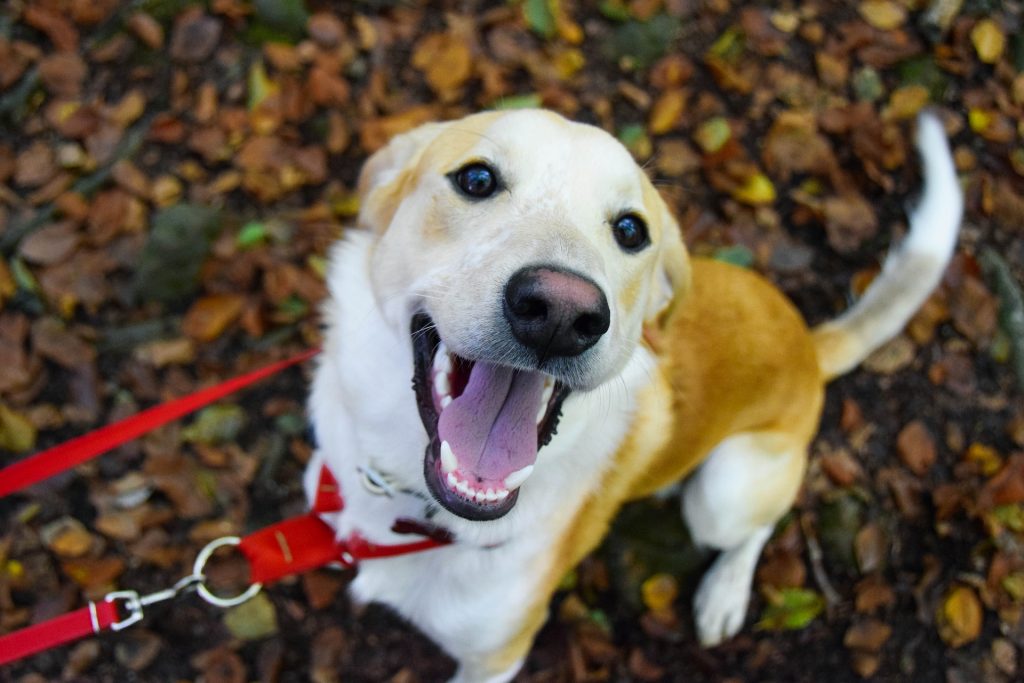 Many dogs are motivated by food, others are motivated by toys, and some are motivated purely by praise and attention.
Why does this matter?
Because once you understand what really motivates your dog, training becomes so much easier. Whether it may be a quick game of tug, an extra tasty treat, or a good ol' back scratch, you can then use that motivation as a reward in training sessions.
Rewarding a dog with something that they truly value will make them try even harder to please, which is exactly what you want when training.
Always Set Your Dog Up for Success
It's easy to try to rush things when training a new dog. Some dogs pick up commands surprisingly quickly, so you keep asking for more and more. However, ask for too much at once and your dog will end up confused, frustrated, and de-motivated.
Let's use the "sit" command as an example – one of the first things a new dog is taught:
Once your dog has mastered this in a quiet room in your home, add in a distraction. Try asking for the "sit" while you're holding a toy, a leash, or your dog's food bowl. Take it slowly, heavily rewarding each time.
Only once your dog can sit on command in the house, with a few different distractions to deal with, should you start working on the command outside. Again, this should be in a still and quiet outdoor environment.
If you move too fast and expect your new dog to sit on command in a busy environment while experiencing sensory overload, even though your dog isn't yet solid with the command at home, then training is going to be a long and bumpy road for you both.
You'll come across many dog training tips in your journey as a new owner, but make sure that you don't forget this one:
Set your dog up for success each time you ask something of them. If your dog fails at any point, then this is a sign that you're asking too much.
Keep Training Sessions Short and Sweet
Puppies, as well as older dogs who are being trained for the first time, have a very short attention span, usually just a minute or two.
Their brains need to adjust to being worked. Those short bursts of intense concentration are mentally exhausting for a dog who isn't used to thinking so hard. This is why their attention will start to drift pretty quickly.
You want your new dog to be engaged and focused each time you're working with them. So, keep all of your training sessions short and sweet. At the beginning, a training session should last no more 60 seconds, if that. You need to stop before your dog loses focus themselves.
Over time, you'll be able to build this up, until you're training for longer periods.
Read Up on Dog Owner Etiquette
Researching dog training tips is a great start. However, it's not just dogs that need to be trained – new owners have plenty to learn too. Read up on dog owner etiquette so that you understand how you should be handling and training your dog in different situations.
For example, what's the polite way for your dog to greet other dogs and people on walks? How does this change if the dog you encounter is reactive or aggressive? 
There are certain standards that responsible dog owners try to adhere to as much as possible. Make sure that you're aware of these.
The internet is full of different dog training tips, but make sure that you only follow advice from reputable sources. Dog training should always be fun and positive. It's a great way to build a strong bond with your new dog, one that will benefit both of you for years to come.