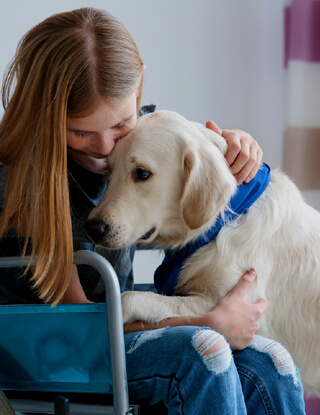 Ever wondered how service dogs form such an extraordinary bond with their human partners? Here's a hint: Unlike what you might hear in free online dog training videos, their trainers do NOT start with vocal commands like "sit" or "stay".
Starting with these verbal commands that most people learn from YouTube videos or $10 training books is one of the biggest mistakes owners make.
The science of animal behavior tells us that the best way to train dogs is by using body language – not verbal commands.
For the first time ever, our free workshop will reveal the secrets of the service dog training industry, so that you too can train your dog to become as obedient as a service dog.
Our free online dog training workshop improves dog-owner relationships and prevents poor behavior, like:
Barking

Accidents

Leash Pulling
Not Coming When Called

Jumping on people

Running Out the Door
Chasing Cars or Animals

Chewing

Nipping or Biting

Begging

Getting Too Excited
Ignoring Commands

The workshop is conducted by Dr. Alexa Diaz, Ph.D., one of the most respected service dog trainers in the United States, and Eric Presnall, host of the Animal Planet TV show "Who Let the Dogs Out".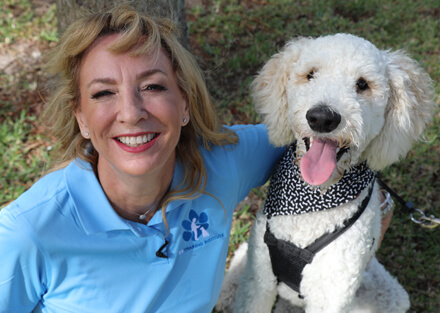 Dr. Alexa Diaz, Ph.D
Lead Animal Behaviorist
K9 Training Institute
Dr. Diaz has more than 20 years of experience in training service dogs to assist people with physical and mental disabilities. She has also trained rescue dogs to become emotional support dogs for war veterans suffering from PTSD (post-traumatic stress disorder). Her research on animal behavior has been published in several academic journals.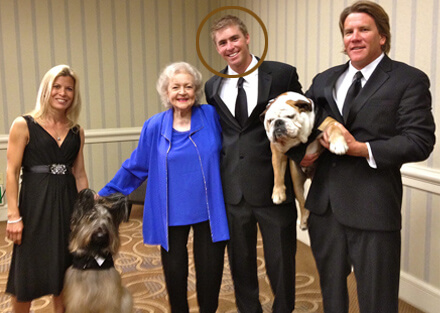 Eric Presnall
Lead Presenter and Trainer
K9 Training institute
Before working with the K9 Training Institute, Eric was the host of an Animal Planet TV show that went searching for the most well-trained dogs in the U.S. – skateboarding dogs, surfing dogs, service dogs, etc. His role was to judge the trainers' success with their dogs. He also worked alongside Hollywood stars who were also animal rights activists like Betty White, Greg Kinnear, and more.
Our online dog training workshop will transform your dog
Their current behavioral problems, like barking and leash-pulling will be things of the past
They will listen to you even without treats
They will look to you for directions at all times
Their entire mindset will change to wanting to please you, just like service dogs
They will be extraordinarily well-behaved in public
They will remain calm and well-behaved in the presence of extremely high levels of distractions
They will listen to you – even at a distance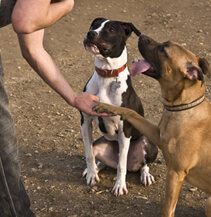 This free online dog training workshop won't be up forever, so please watch it while you can. And be sure to watch the entire workshop to see the special surprise at the end!
So how does it actually work?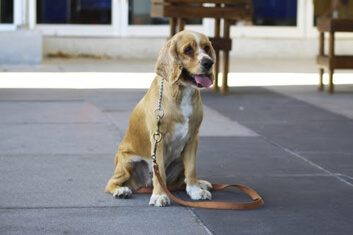 The methods we teach in our online dog training workshop are usually known only by professionals working in the service dog training industry, but any owner can achieve this kind of transformation too – you don't need a degree in animal behavior!
Even if you've already taught your dog using verbal commands like "sit", "stay", etc., don't worry – your dog will be able to quickly master the new, different methods.
All you need to do is to spend around 10 – 15 minutes per day training your dog.
We're going to show you how in our free workshop.
7 stages of obedience and mindfulness training
As you learn their techniques with our online dog training workshop, your dog will progress through seven stages of obedience and mindfulness training. They will learn to:
Focus their attention on you
Focus on you even in the presence of distractions
Focus on you during walks
Focus on you regardless of location
Calmly greet other dogs and people in public
Do the Auto SIT
Have service dog-level impulse control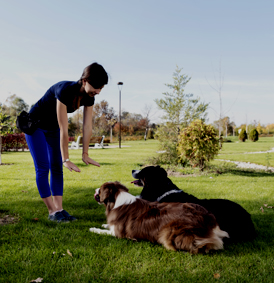 Your dog will listen to you, even without treats!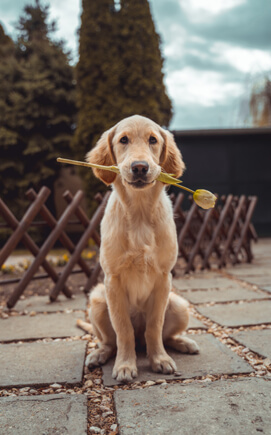 Let's face it – anyone with some bacon in their hands can train a dog to sit in less than 3 minutes no problem; there are thousands of free online dog training YouTube videos that show you how.
But the real challenge is to get your dog to:
Maintain eye contact with you – not even blinking an eyelid when someone else's dog starts barking or lunging toward them during one of your walks
Continue to sit calmly wherever you've asked them to sit, even if it's in a crowded farmer's market with yummy, smelly meals being prepared all around them
Remain calmly in their bed even with a bunch of screaming kids running around your house
That level of calmness, obedience, and impulse control – something that only service dogs typically exhibit – is what this online dog training workshop is designed to help you achieve with your dog.
We'll also show you how to wean your dog off treats so that they listen to you without any food bribes!
Help us support rescue shelters and other charities
When you purchase the online dog training products on our website, you are not only going to be helping your own dog, but will also be giving other dogs a second chance at finding a new loving home.
K9 Training Institute's mission is to make the world a better place by reducing the number of dogs that are given up to shelters and put down every year. That's why we donate a percentage of our earnings to rescue shelters and animal welfare organizations like the ASPCA, American Humane, and others.