K9 Training Institute Blog
Welcome to our blog! Here you'll find dog training tips and tricks essential for a well-mannered pup.
Training your dog is a lifelong commitment. We can't teach them a few tricks and then expect them to behave politely forever.
That's why we regularly add additional content to our dog training blog. We're dedicated to helping you build a loving, trusting, and healthy relationship with your pet. That's because every single dog has the potential to form an extraordinary bond with their human family.
All the dog training tips in the articles on this blog are based on extensive scientific research made by animal behavior specialists of the caliber of Dr. Alexa Diaz, Ph.D. (our lead animal behaviorist and one of the foremost service dog trainers in the U.S.).
Bookmark this page to stay up-to-date on the latest in all things related to dogs. We regularly update our dog training blog with additional tips and tricks, so don't miss out!
Also, don't forget to check out our free workshop designed to help your dog become as calm, obedient, and well-trained as a service dog!
If you have questions, you can learn more about us or get in touch.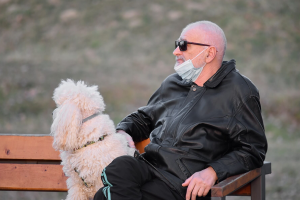 While face mask restrictions are being lifted in some parts of the world, this isn't the case everywhere. And, since dogs depend pretty heavily on being able to read a person's facial expressions, a masked person can leave them feeling confused, and possibly even scared. This may not be an... Read More >>>