What to Expect When You Start Leash Walking a Puppy
For most puppies, walking on a leash isn't something that comes naturally, which is why leash walking training is so important. Here's what you should expect when you're first getting started. 
Introducing the Leash
Before you even attempt to take your puppy on a walk, you need to first introduce the leash in a positive way.
Start by using a standard flat collar and a 4 to 6 foot leash. If your puppy isn't used to wearing a collar, give them a couple of days to grow accustomed to the feeling of having something around their neck while they are at home.
If you decide that you would rather use a harness, then slowly introduce them to this in the same way.
Then, attach the leash but don't hold onto the other end. Instead, allow your pup to simply drag it around the house behind them. Do this for short periods of time, but have several sessions a day. Each time you attach the leash, spend time playing and interacting with your puppy, making sure that you're giving them plenty of praise and rewards. You want them to associate the leash with positivity.
You can then start leash walking puppy training around the house. Only once your pup is happy to follow you around the house with you holding their leash should you progress your leash walking training outdoors.
The First Walk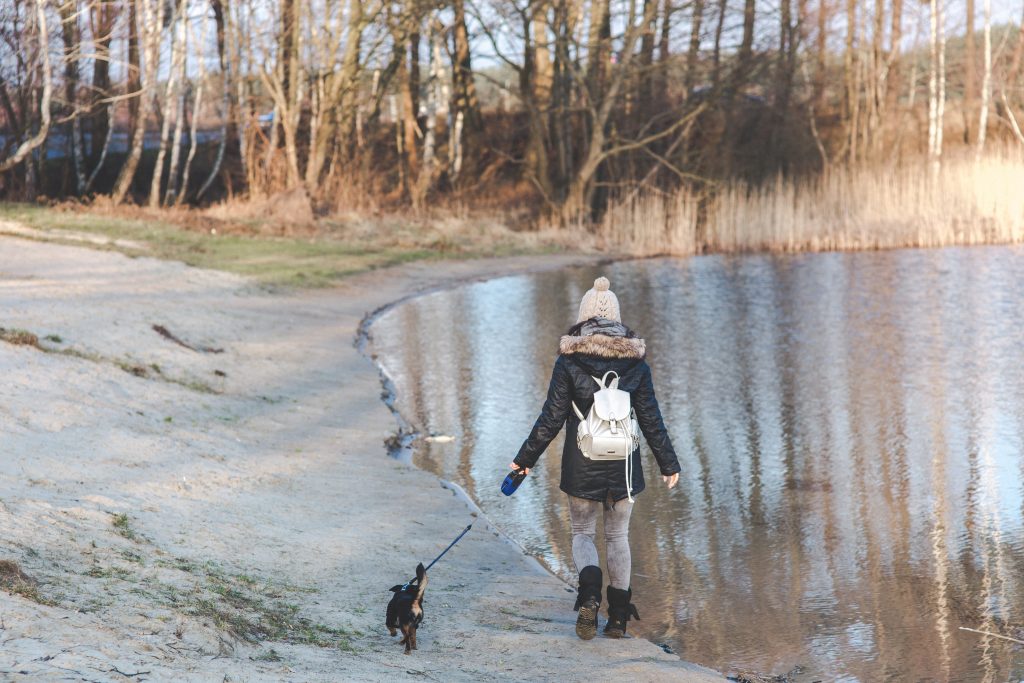 The first walk with your pup will help to set the tone for all of your other walks, so it's important to get this right. Puppies quickly end up over-stimulated by the outdoor world, so pick a quiet place to walk to. Ideally, this should only be a couple of minutes away, as you need to keep the first walk short.
Choose a quiet time too, when you know that there won't be many people, cars, or dogs about.
Take some treats or toys with you (whichever your puppy is most motivated by). Before setting off, have your puppy sit by your side, and then reward them. Pick a cue word, such as "let's go", and then start walking as soon as you have said it.
Take things slow, at your puppy's pace, and continue rewarding good behavior while on your walk. You want to encourage your pup to stay by your side and to stay focused on you.
Pulling on the Leash
Pulling on the leash is to be expected when you first start leash walking puppy training. However, while it may be normal behavior to begin with, it's also something that you need to quickly address.
There are several methods for stopping a puppy from pulling on the leash. The easiest is to simply stop walking each time your pup pulls, meaning the very second that you feel pressure on the leash. As soon as the leash slackens, even just a tiny bit, say "let's go" and continue walking.
Some pups are persistent pullers, so you need to be consistent. This means that what should be a five minute walk could end up taking half an hour, with all of the stopping and starting. However, be patient and stick with it. Puppies learn quickly, and yours will soon understand that any pressure on the leash means that the walk stops, which will help to teach them that the best place to be is by your side.
Refusing to Move Mid-Walk
Some puppies pull on the leash, while others do the opposite – they simply stop and refuse to walk. The only time that this is acceptable is if your puppy is genuinely tired. In this case, you need to shorten your walks – over-exercising a puppy is extremely damaging for their joints, and this should never be allowed to happen again.
If your pup isn't tired but is simply refusing to walk, try luring them with a treat. Hold a treat a few steps in front of them, say "let's go", and give their leash a gentle tug. Keep your tone positive and your energy levels high, and your puppy should continue walking again.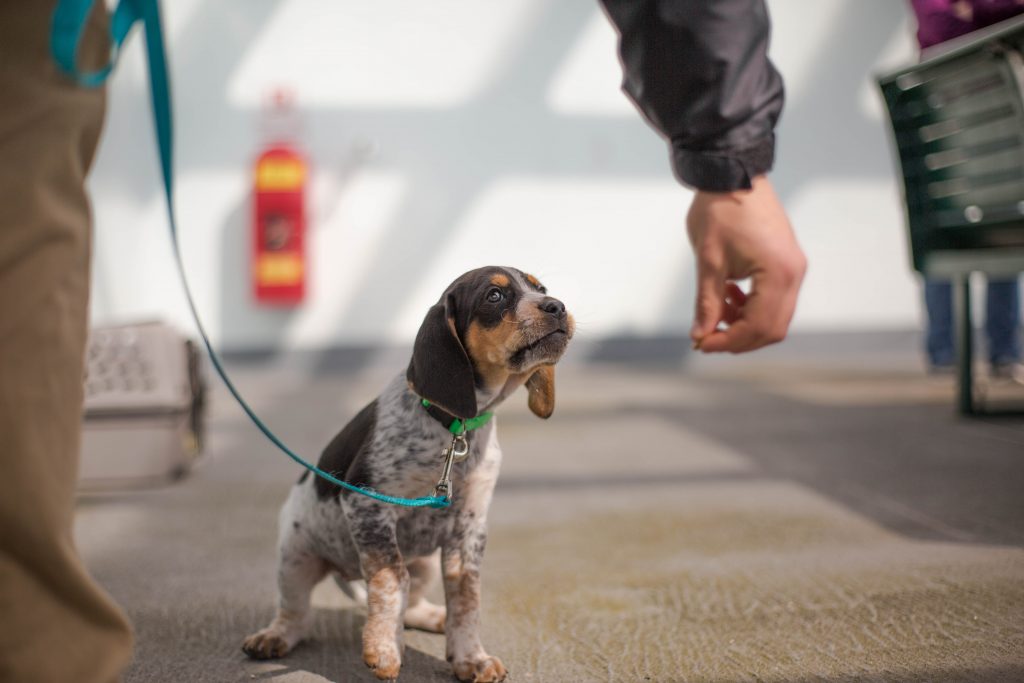 Choosing the Right Collar, Leash, and Harness
In terms of collars and leashes, you won't really know what you'll need until you actually start leash walking training. This is why it's best begin with a standard flat collar and leash.
However, if you're concerned about your dog slipping out of their collar while on a walk, consider a martingale collar. This will slightly tighten if your dog pulls, but won't choke them. Choke collars should be avoided – if you put the effort in, leash walking puppy training can be done in a much more positive way.
Front clip harnesses are useful for strong pullers. However, never use a harness that restricts your dog's shoulder movements in any way. This alters their gait and can be damaging for their joints.
Head collars are another good alternative. The only issue is hurting your puppy if you're too rough, so read up on how to properly use one.
Ready to Get Walking?
Leash walking puppy training definitely takes some time, but your efforts now will pay off big style in the future. A happy and confident puppy that walks well on a loose leash will make your future walks so much more enjoyable, giving you and your puppy plenty of opportunities when it comes to exploring the exciting world around you.