Australian Shepherd Dog – An active and intelligent addition to your family
Australian Shepherd Ownership and Care Information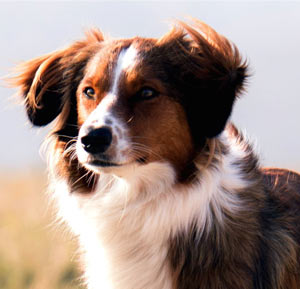 Breed Introduction
Despite the name, the Australian shepherd is not Australian but is a breed that developed in the western U.S. He is an active, intelligent, hard working and versatile dog that needs a family who understands his specific needs. The Aussie need an active home where their intelligence and energy are channeled into some productive work. Give him a job and he'll be a happy dog. However, without a purpose in life they become bored and can develop destructive behaviors. The Aussie has a huge amount of energy, and therefore needs plenty of daily exercise. They have a strong character, and this makes them extremely loyal and protective of their family. This dog should be socialized early as they can be a little aloof with strangers. It's also good to introduce them to children and other house pets at an early age. Aussies make excellent watchdogs as they are very vocal and use a unique bark-howl combination to alert their family of any perceived threat. The breed still retains a strong herding instinct, meaning he has a tendency to nip at your ankles when running and playing. It is recommended that Aussies should be kept in a well-fenced yard and on a lead when out walking so to prevent them from herding traffic, which can be fatal.
Free Online Workshop On Dog Training
Join our next free online workshop and learn the secrets that the pros at the K9 Training Institute use to train service dogs to be so calm and well-behaved – and how you can use those same training methods to train YOUR dog!
Space is limited – so please reserve your spot right away.
Will an Australian Shepherd be a suitable dog for my family?
Is the Australian Shepherd a suitable dog for your family?
Yes – if you want a large (60-120lbs) or medium (30-65lbs) sized dog
As long as you have a back yard that is a minimum of 1 1/2 – 2 acres in size
Your yard is secured with a fence (not invisible)
If you are able to spend at least 45-60 minutes total per day for the feeding, exercising, training and grooming of your dog
As long as you want a dog with a double coat
If you are looking for a dog that only sheds twice a year
Yes – If you have infants or young children
If you are looking for a breed that is easy to housebreak (in general the Australian Shepherd takes up to 6 weeks to fully housebreak)
Yes – if you want a dog that is very active and will join in with your activities (e. g. jog with you, play active games, go hiking, etc.)
You are looking for a dog that is highly trainable
If you want a dog that will bark to warn you of odd noises or strangers approaching
You are looking for your first dog, or already have another dog in the home
Then Australian Shepherd is the best suited Dog for you.
Australian Shepherd Stat Chart
Rating System:
Ease of training: 1 is hard to train, 5 is easy
Ease of grooming: 1 is hard to groom, 5 is easy
Sociability: 1 is not social, 5 is very social
Guarding: 1 is not a good guard dog, 5 is very good guard dog
Suitable for Apartments: 1 is not suitable, 5 is very suitable
Noisiness: 1 is quiet, 5 is loud
Biting and Nipping: 1 is doesn't nip/bite, 5 high chance of biting/nipping
Energy Level: 1 is low energy, 5 is high energy
Shedding: 1 is low energy, 5 is high shedding
Affection: 1 is not very friendly, 5 is very friendly
Exercise Requirements: 1 is low exercise needed, 5 is a lot of exercise
Breed Stat
Breed Group: Herding Group
Size: Large,Medium
Life span: Over 10 Years
Exercise: More than 2 hours per day
Grooming: More than once a week
Coat length: Medium
Coat sheds?: Yes
Home Size: Large
Garden Size: Large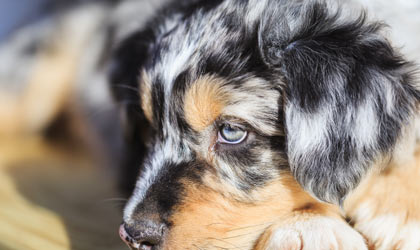 Rating System:
Ease of training: 1 is hard to train, 5 is easy
Ease of grooming: 1 is hard to groom, 5 is easy
Sociability: 1 is not social, 5 is very social
Guarding: 1 is not a good guard dog, 5 is very good guard dog
Suitable for Apartments: 1 is not suitable, 5 is very suitable
Noisiness: 1 is quiet, 5 is loud
Biting and Nipping: 1 is doesn't nip/bite, 5 high chance of biting/nipping
Energy Level: 1 is low energy, 5 is high energy
Shedding: 1 is low energy, 5 is high shedding
Affection: 1 is not very friendly, 5 is very friendly
Exercise Requirements: 1 is low exercise needed, 5 is a lot of exercise