The Basset Hound: Not just an advert for shoes….
The Best Breed Specific Care Tips for Basset Hound Owners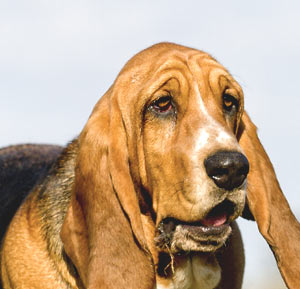 Breed Introduction
Probably most famous for the advertising icon for Hush Puppies shoes, the Basset Hound is aristocratic and charming. An easy to recognize companion dog that has a calm and placid personality. A well-bred Basset is happy, even-tempered, relaxed, friendly and has a good sense of humor. They are loyal to their family but hate being left alone. If left alone for long periods of time they can howl or even become destructive. Bassets are rarely nervous or high strung or aggressive. However, although this lack of aggression makes them a poor choice as guard dogs, they have a deep, sonorous bark, which is enough to scare off most potential intruders. Bassets are very loving and gentle with children and other house pets, making them a great family dog. But they do have a strong will and independent mind, so training can sometimes be a challenge. Being a scent hound, the tireless Basset is likely to ignore the recall while following an attractive scent trail. Consistency and patience is the name of the game when it comes to training a Basset. Like any other dogs, a Basset puppy needs early socialization to grow up to be a well-rounded dog.
Free Online Workshop On Dog Training
Join our next free online workshop and learn the secrets that the pros at the K9 Training Institute use to train service dogs to be so calm and well-behaved – and how you can use those same training methods to train YOUR dog!
Space is limited – so please reserve your spot right away.
Will a Basset Hound be a suitable dog for my family?
Will a Basset Hound be a suitable dog for your family?
Yes, if you want a medium sized dog of around 30-65lbs
If you have a medium sized yard or larger (at least 1 1/2 to 2 acres in size)
You have a secure, fenced yard (not invisible fencing)
As long as you have a minimum of 45-60 minutes per day to feed, train, exercise, groom and interact with your dog
You want a smooth coated dog
You are happy to have a dog that moults all year round
If you have children (or anyone who regularly visits) over 5 years of age
As long as you have the time, persistence and patience necessary to housebreak your dog
The Basset Hound is ideal if you are looking for a dog that is reasonably active as a puppy, but becomes settled as an adult. An adult Basset Hound is a good choice if he needs to be left at home alone during the day
As long as you are prepared to have a dog that might be somewhat of a challenge to train due to being a bit on the stubborn side
The Basset Hound is ideal for those who want a non-aggressive dog that barks very little
If this is to be the first dog that you have owned as an adult
Then Basset Hound is the best suited Dog for you.
Basset Hound Stat Chart
Rating System:
Ease of training: 1 is hard to train, 5 is easy
Ease of grooming: 1 is hard to groom, 5 is easy
Sociability: 1 is not social, 5 is very social
Guarding: 1 is not a good guard dog, 5 is very good guard dog
Suitable for Apartments: 1 is not suitable, 5 is very suitable
Noisiness: 1 is quiet, 5 is loud
Biting and Nipping: 1 is doesn't nip/bite, 5 high chance of biting/nipping
Energy Level: 1 is low energy, 5 is high energy
Shedding: 1 is low energy, 5 is high shedding
Affection: 1 is not very friendly, 5 is very friendly
Exercise Requirements: 1 is low exercise needed, 5 is a lot of exercise
Breed Stat
Breed Group: Hound Group
Size: Medium
Life span: Over 10 Years
Exercise: Up to 1 hour per day
Grooming: Once a week
Coat length: Short
Coat sheds?: Yes
Home Size: Large
Garden Size: Medium,Small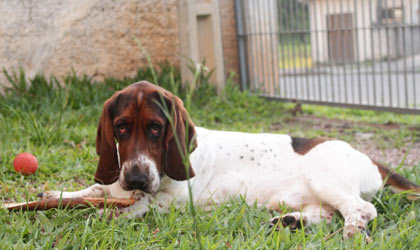 Rating System:
Ease of training: 1 is hard to train, 5 is easy
Ease of grooming: 1 is hard to groom, 5 is easy
Sociability: 1 is not social, 5 is very social
Guarding: 1 is not a good guard dog, 5 is very good guard dog
Suitable for Apartments: 1 is not suitable, 5 is very suitable
Noisiness: 1 is quiet, 5 is loud
Biting and Nipping: 1 is doesn't nip/bite, 5 high chance of biting/nipping
Energy Level: 1 is low energy, 5 is high energy
Shedding: 1 is low energy, 5 is high shedding
Affection: 1 is not very friendly, 5 is very friendly
Exercise Requirements: 1 is low exercise needed, 5 is a lot of exercise