The Beagle: A large hound in a small package…
Ownership and care information for the Beagle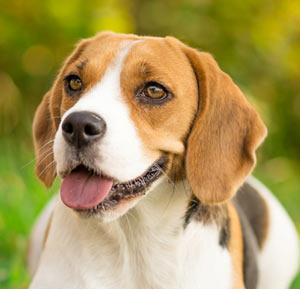 Breed Introduction
The Beagle is a bustling little dog, full of enthusiasm and vigor and has been consistently one of the top 10 most loved breeds in US for centuries. This breed is the smallest member of the hound group and still retains its natural hunting instinct. Beagles are not aggressive, but are known for their distinctive baying bark at any sound of an intruder. This makes them great watchdogs. Beagles are highly intelligent and tend to have a mind of their own. Sturdy, courageous and active, this delightful dog is blessed with an affable and merry temperament. They are good-natured, gentle, friendly and lovable, with their tails perpetually wagging. Beagles are inquisitive dogs and love to explore, hence they must be watched very carefully if not leashed while outdoors because they can get easily distracted by their explorations and may "eat themselves to death," so to speak. Due to their easy going and tolerant nature, Beagles are an excellent choice for families with children. Beagles do not enjoy being alone for extended periods of time and seek constant attention from their owners. They can easily become bored, leading to behavioral problems, including becoming destructive if not kept occupied.
Free Online Workshop On Dog Training
Join our next free online workshop and learn the secrets that the pros at the K9 Training Institute use to train service dogs to be so calm and well-behaved – and how you can use those same training methods to train YOUR dog!
Space is limited – so please reserve your spot right away.
Will a Beagle be a suitable dog for my family?
Will a Beagle be a suitable dog for my family?
Yes, if you are looking for a small to medium sized dog (12-35lbs)
If the type of the yard that you have is small ((less than half an acre) or any size upwards of this
As long as your yard is well secured with a fence (not invisible)
Yes, if you are able to spend at least 45-60 minutes total per day for the feeding, exercising, training, and grooming of your dog
If you are looking for a dog breed that has a smooth coat
As long as you are happy to have a dog that sheds all year round
The Beagle is a great family dog. This makes him an ideal choice if you have children (preferably aged 5 upwards)
If you have the time and persistence to housebreak your puppy
The Beagle is a good choice if you are looking for a dog that is active as a puppy but becomes settled as an adult. He is a good breed to own if the dog needs to be alone during the day (once adult)
As long as you are prepared to have a dog that might be a little stubborn to successfully train
A great choice if you are looking for a non-aggressive dog that barks very little
If this is to be the first dog that you have owned as an adult
Then Beagle is the best suited Dog for you.
Beagle Stat Chart
Rating System:
Ease of training: 1 is hard to train, 5 is easy
Ease of grooming: 1 is hard to groom, 5 is easy
Sociability: 1 is not social, 5 is very social
Guarding: 1 is not a good guard dog, 5 is very good guard dog
Suitable for Apartments: 1 is not suitable, 5 is very suitable
Noisiness: 1 is quiet, 5 is loud
Biting and Nipping: 1 is doesn't nip/bite, 5 high chance of biting/nipping
Energy Level: 1 is low energy, 5 is high energy
Shedding: 1 is low energy, 5 is high shedding
Affection: 1 is not very friendly, 5 is very friendly
Exercise Requirements: 1 is low exercise needed, 5 is a lot of exercise
Breed Stat
Breed Group: Hound Group
Size: Medium,Small
Life span: Over 10 Years
Exercise: More than 2 hours per day
Grooming: Once a week
Coat length: Short
Coat sheds?: Yes
Home Size: Large,Small
Garden Size: Medium,Small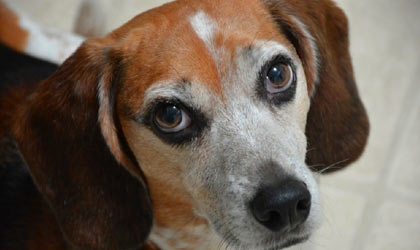 Rating System:
Ease of training: 1 is hard to train, 5 is easy
Ease of grooming: 1 is hard to groom, 5 is easy
Sociability: 1 is not social, 5 is very social
Guarding: 1 is not a good guard dog, 5 is very good guard dog
Suitable for Apartments: 1 is not suitable, 5 is very suitable
Noisiness: 1 is quiet, 5 is loud
Biting and Nipping: 1 is doesn't nip/bite, 5 high chance of biting/nipping
Energy Level: 1 is low energy, 5 is high energy
Shedding: 1 is low energy, 5 is high shedding
Affection: 1 is not very friendly, 5 is very friendly
Exercise Requirements: 1 is low exercise needed, 5 is a lot of exercise