The Bloodhound – Far more than simply a nose
Obedience and training information related to the Bloodhound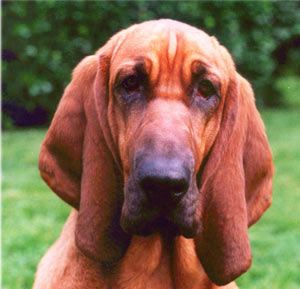 Breed Introduction
With an ancestry that can be traced back to the monastery of St Huberts, Bloodhounds are perhaps most famous for their wrinkled face, long pendulous ears and amazing sense of smell. They were originally used to trail deer and boar. The Bloodhound is one of the most patient, kind and sensitive dogs in the dog world, and despite their size are gentle and affectionate, dignified yet friendly. They are an active and intelligent breed, but are surprisingly willful, independent and determined at the same time. Bloodhounds are highly tenacious and can follow a scent trail for miles with endless energy and endurance. They usually get on well with children and other dogs and household pets. However, they make a poor choice either as watchdog or guard dog due to their intrinsic love for people. They will welcome both known and unknown visitors and would never dream of charging on. Though nice and quiet at home, they can be very vocal outdoors when they get excited.
Free Online Workshop On Dog Training
Join our next free online workshop and learn the secrets that the pros at the K9 Training Institute use to train service dogs to be so calm and well-behaved – and how you can use those same training methods to train YOUR dog!
Space is limited – so please reserve your spot right away.
Will a Bloodhound be a suitable dog for my family?
Will a Bloodhound be a suitable dog for my family?
Yes, if you are looking for a large sized dog (60-120+lbs)
As long as you have a back yard that is a minimum of 1 1/2 to 2 acres in size
Your back yard is secured with visible fencing
You will need to be able to spend at least 1-2 hours total per day for the feeding, exercising, training, and grooming of your dog
Yes, if you want a short coated dog
As long as you are happy to have a dog that sheds all year round
If you have small children or infants in the house
You will need to have the time and persistence necessary to successfully housebreak your dog
If you want a dog that is active in specific area (e.g. hunting, flyball, or agility)
You are not particularly bothered how trainable your dog is
Because of their love for all things human, the Bloodhound is not a good guard dog. However, he will bark to warn you of odd noises and strangers
He is an ideal choice if you have had other dogs in the past
Then Bloodhound is the best suited Dog for you.
Bloodhound Stat Chart
Rating System:
Ease of training: 1 is hard to train, 5 is easy
Ease of grooming: 1 is hard to groom, 5 is easy
Sociability: 1 is not social, 5 is very social
Guarding: 1 is not a good guard dog, 5 is very good guard dog
Suitable for Apartments: 1 is not suitable, 5 is very suitable
Noisiness: 1 is quiet, 5 is loud
Biting and Nipping: 1 is doesn't nip/bite, 5 high chance of biting/nipping
Energy Level: 1 is low energy, 5 is high energy
Shedding: 1 is low energy, 5 is high shedding
Affection: 1 is not very friendly, 5 is very friendly
Exercise Requirements: 1 is low exercise needed, 5 is a lot of exercise
Breed Stat
Breed Group: Hound Group
Size: Large
Life span: Under 10 Years
Exercise: More than 2 hours per day
Grooming: Once a week
Coat length: Short
Coat sheds?: Yes
Home Size: Large
Garden Size: Large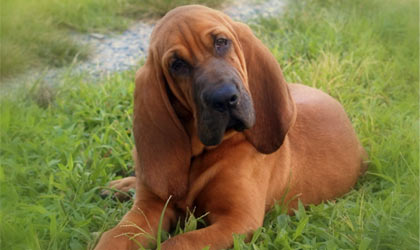 Rating System:
Ease of training: 1 is hard to train, 5 is easy
Ease of grooming: 1 is hard to groom, 5 is easy
Sociability: 1 is not social, 5 is very social
Guarding: 1 is not a good guard dog, 5 is very good guard dog
Suitable for Apartments: 1 is not suitable, 5 is very suitable
Noisiness: 1 is quiet, 5 is loud
Biting and Nipping: 1 is doesn't nip/bite, 5 high chance of biting/nipping
Energy Level: 1 is low energy, 5 is high energy
Shedding: 1 is low energy, 5 is high shedding
Affection: 1 is not very friendly, 5 is very friendly
Exercise Requirements: 1 is low exercise needed, 5 is a lot of exercise