The Boxer Dog – One of life's extroverts!
Care and ownership of the Boxer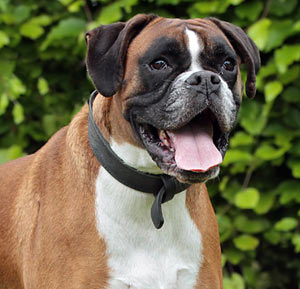 Breed Introduction
The "Peter Pan" of the dog world, the Boxer is an extrovert, fun-loving, playful and energetic individual. This happy and graceful breed, has a great sense of humor and youthful exuberance that truly does entertain. Despite his endearing ways, the Boxer is guarding breed of the higher order. Typically he is strong, intelligent, alert, fearless and self-assured, yet friendly and amenable towards humans. The breed is well-known for their great love and loyalty towards their family members. However, they need plenty of exercise and mental stimulation to grow up to be a good companion, and can be very destructive if left alone for long periods of time. Boxers are often suspicious of strangers at first, but will not show any aggression unless threatened. This dog is a natural protector, and can be a good guard dog if trained properly. Their reputation of being willful, headstrong and hard to train in obedience is somewhat well-earned, meaning they should be trained early in life for the best results.
Free Online Workshop On Dog Training
Join our next free online workshop and learn the secrets that the pros at the K9 Training Institute use to train service dogs to be so calm and well-behaved – and how you can use those same training methods to train YOUR dog!
Space is limited – so please reserve your spot right away.
Will a Boxer be a suitable dog for my family?
Will a Boxer be a suitable dog for my family?
Yes, if you are looking for a medium to large sized dog (30-120lbs)
As long as you have a medium sized back yard (a minimum of 1 1/2 acres) for him to run in
If the yard is secured with a highly visible fence
As long as you are able to spend at least 1-2 hours in total per day for the feeding, exercising, training, and grooming of your dog
The Boxer is a good choice if you want a short or smooth coated dog
Yes, if the youngest person who lives (or regularly visits your house) is no younger than 5 years of age
If you want a dog that needs average housebreaking time – 6-12 wks
Boxers are a good choice if you want a dog that is reasonably active as a puppy but settled as an adult (e.g. may be a dog that is home alone during the day)
As long as you don't mind a dog that can be a bit of a challenge to successfully train
If you want a dog that barks very little and is non-aggressive, but will defend you or your property if needed
A Boxer is not the ideal first dog for a novice owner. The breed is best owned by those who have had previous dogs, or currently own a dog
Then Boxer is the best suited Dog for you.
Boxer Stat Chart
Rating System:
Ease of training: 1 is hard to train, 5 is easy
Ease of grooming: 1 is hard to groom, 5 is easy
Sociability: 1 is not social, 5 is very social
Guarding: 1 is not a good guard dog, 5 is very good guard dog
Suitable for Apartments: 1 is not suitable, 5 is very suitable
Noisiness: 1 is quiet, 5 is loud
Biting and Nipping: 1 is doesn't nip/bite, 5 high chance of biting/nipping
Energy Level: 1 is low energy, 5 is high energy
Shedding: 1 is low energy, 5 is high shedding
Affection: 1 is not very friendly, 5 is very friendly
Exercise Requirements: 1 is low exercise needed, 5 is a lot of exercise
Breed Stat
Breed Group: Working Group
Size: Large,Medium
Life span: Over 10 Years
Exercise: More than 2 hours per day
Grooming: Once a week
Coat length: Short
Coat sheds?: Yes
Home Size: Large
Garden Size: Large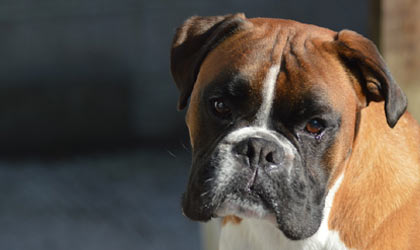 Rating System:
Ease of training: 1 is hard to train, 5 is easy
Ease of grooming: 1 is hard to groom, 5 is easy
Sociability: 1 is not social, 5 is very social
Guarding: 1 is not a good guard dog, 5 is very good guard dog
Suitable for Apartments: 1 is not suitable, 5 is very suitable
Noisiness: 1 is quiet, 5 is loud
Biting and Nipping: 1 is doesn't nip/bite, 5 high chance of biting/nipping
Energy Level: 1 is low energy, 5 is high energy
Shedding: 1 is low energy, 5 is high shedding
Affection: 1 is not very friendly, 5 is very friendly
Exercise Requirements: 1 is low exercise needed, 5 is a lot of exercise