The Bulldog – Don't judge a book by it's cover…
How to succesfully train a Bulldog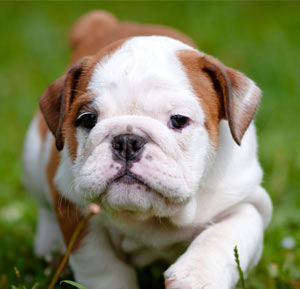 Breed Introduction
One the oldest and gentlest of the native breeds of the UK, the Bulldog is known as the National dog of Great Britain. The breed is best known for its tenacity, courage, power and endurance. They are dignified, yet a truly sweet and loveable dog. Their friendly and easygoing nature makes them a poor choice for a guard dog, but their loyalty means that they will definitely protect a family member if and when the need should arise. The tough, doleful expression of this delightfully ugly dog is somewhat unmatched to his loving, affectionate nature. Bulldogs are very much people oriented, seeking and enjoying constant human attention. Though occasionally a little bullish and stubborn, they are dependable and good-tempered. A natural protector of children, they will even learn to get along with other family pets if introduced at an early age. Their qualities include being calm, thoughtful, goofy and humorous, although some can be a bit dominating so need an owner who will be strong enough to cope with this. Bulldogs need early socialization to grow up to be a well-rounded dog.
Free Online Workshop On Dog Training
Join our next free online workshop and learn the secrets that the pros at the K9 Training Institute use to train service dogs to be so calm and well-behaved – and how you can use those same training methods to train YOUR dog!
Space is limited – so please reserve your spot right away.
Will a Bulldog be a suitable dog for my family?
Is a Bulldog a suitable dog for my family?
Yes, if you want a medium sized dog, around 30-65 lbs
This is a great breed to choose if you have a small back yard, or even no back yard at all
If you have a back yard that is well secured with visible fencing
As long as you are able to spend at least 45-60 minutes total per day for the feeding, exercising, training, and grooming of your dog
Yes, if you want a dog with a short coat
As long as you are aware that this dog sheds all year round
If you have children in the home (or that visit regularly) that are no younger than 5 years old
The Bulldog is a good choice if you want a dog that takes an average time to housebreak (around 6-12 weeks)
If you want a dog whose activity level is sedentary (e.g. a dog that is happy simply lying around most of the time)
Yes, if you want a dog that is generally easy to train
Ideal if you want a dog that will defend you or your property if necessary
The Bulldog is a good choice for the first time dog owner
Then Bulldog is the best suited Dog for you.
Bulldog Stat Chart
Rating System:
Ease of training: 1 is hard to train, 5 is easy
Ease of grooming: 1 is hard to groom, 5 is easy
Sociability: 1 is not social, 5 is very social
Guarding: 1 is not a good guard dog, 5 is very good guard dog
Suitable for Apartments: 1 is not suitable, 5 is very suitable
Noisiness: 1 is quiet, 5 is loud
Biting and Nipping: 1 is doesn't nip/bite, 5 high chance of biting/nipping
Energy Level: 1 is low energy, 5 is high energy
Shedding: 1 is low energy, 5 is high shedding
Affection: 1 is not very friendly, 5 is very friendly
Exercise Requirements: 1 is low exercise needed, 5 is a lot of exercise
Breed Stat
Breed Group: Non Sporting Group
Size: Medium
Life span: Under 10 Years
Exercise: Up to 1 hour per day
Grooming: Once a week
Coat length: Short
Coat sheds?: Yes
Home Size: Large,Small
Garden Size: Medium,Small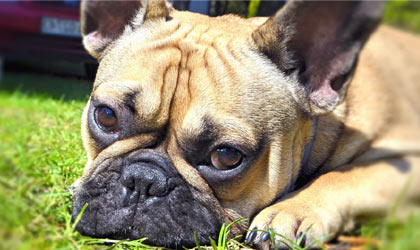 Rating System:
Ease of training: 1 is hard to train, 5 is easy
Ease of grooming: 1 is hard to groom, 5 is easy
Sociability: 1 is not social, 5 is very social
Guarding: 1 is not a good guard dog, 5 is very good guard dog
Suitable for Apartments: 1 is not suitable, 5 is very suitable
Noisiness: 1 is quiet, 5 is loud
Biting and Nipping: 1 is doesn't nip/bite, 5 high chance of biting/nipping
Energy Level: 1 is low energy, 5 is high energy
Shedding: 1 is low energy, 5 is high shedding
Affection: 1 is not very friendly, 5 is very friendly
Exercise Requirements: 1 is low exercise needed, 5 is a lot of exercise