The Bullmastiff – Protector of your family
Bullmastiff Care and Ownership online – provided for free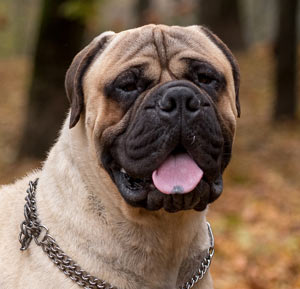 Breed Introduction
Firm and fearless, the Bullmastiff is an affectionate member of the working family. The breed is a combination of the English Bulldog and Old English Mastiff. Strong, brave and powerful, the Bullmastiff is reliable and loyal to his family and naturally makes an excellent family guard and protector. They are silent watchdogs and will never bark, but will respond instantly if they perceive that their family is threatened. A well-bred Bullmastiff is docile, gentle, confident, trustworthy and obedient. They are generally good with children, but due to their size can accidentally knock over or step on a toddler. Bullmastiffs are smart, intelligent and eager to learn, but can be independent thinkers and like to have a good reason for doing things. They should be socialized and obedience trained from an early age to curb any aggression and willfulness.
Free Online Workshop On Dog Training
Join our next free online workshop and learn the secrets that the pros at the K9 Training Institute use to train service dogs to be so calm and well-behaved – and how you can use those same training methods to train YOUR dog!
Space is limited – so please reserve your spot right away.
Will a Bullmastiff be a suitable dog for my family?
Will the Bullmastiff be a suitable dog for my family?
Yes, if you want a large size dog (60-120lbs+)
They are a good choice if you only have a small back yard, or even no back yard at all
Your back yard doesn't necessarily need to be securely fenced. However, this is advisable for any breed of dog to ensure its safety
If you are able to spend at least 1-2 hours total per day for the feeding, exercising, training, and grooming of your dog
In ideal choice if you want a short haired breed of dog
Be aware that the Bullmastiff sheds hair all year round
Because of their size, it is advisable that there are no children under the age of 5 in the house (or that visit the house on a regular basis)
Yes, if you are looking for a breed that is extremely easy to housebreak. The Bullmastiff is a quick learner and generally takes under 6 weeks to train.
If you want a dog that is reasonably active as a puppy but settled as an adult (e.g. perhaps you might need to leave the dog home alone during the day)
As long as you can put up with a dog that has a slight tendency to be stubborn on occasion
If you want a dog that will defend you or your property if needed
The Bullmastiff is better owned by someone who has experience of previous dog ownership
Then Bullmastiff is the best suited Dog for you.
Bullmastiff Stat Chart
Rating System:
Ease of training: 1 is hard to train, 5 is easy
Ease of grooming: 1 is hard to groom, 5 is easy
Sociability: 1 is not social, 5 is very social
Guarding: 1 is not a good guard dog, 5 is very good guard dog
Suitable for Apartments: 1 is not suitable, 5 is very suitable
Noisiness: 1 is quiet, 5 is loud
Biting and Nipping: 1 is doesn't nip/bite, 5 high chance of biting/nipping
Energy Level: 1 is low energy, 5 is high energy
Shedding: 1 is low energy, 5 is high shedding
Affection: 1 is not very friendly, 5 is very friendly
Exercise Requirements: 1 is low exercise needed, 5 is a lot of exercise
Breed Stat
Breed Group: Working Group
Size: Large
Life span: Over 10 Years
Exercise: More than 2 hours per day
Grooming: Once a week
Coat length: Short
Coat sheds?: Yes
Home Size: Large
Garden Size: Large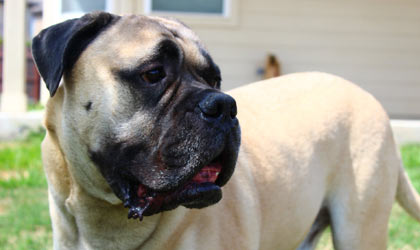 Rating System:
Ease of training: 1 is hard to train, 5 is easy
Ease of grooming: 1 is hard to groom, 5 is easy
Sociability: 1 is not social, 5 is very social
Guarding: 1 is not a good guard dog, 5 is very good guard dog
Suitable for Apartments: 1 is not suitable, 5 is very suitable
Noisiness: 1 is quiet, 5 is loud
Biting and Nipping: 1 is doesn't nip/bite, 5 high chance of biting/nipping
Energy Level: 1 is low energy, 5 is high energy
Shedding: 1 is low energy, 5 is high shedding
Affection: 1 is not very friendly, 5 is very friendly
Exercise Requirements: 1 is low exercise needed, 5 is a lot of exercise