Cavalier King Charles Spaniel – The ultimate lapdog
Training tips for the Cavalier King Charles Spaniel
Breed Introduction
The Cavalier King Charles spaniel is a graceful, affectionate, undemanding and absolutely non-aggressive companion dog who loves nothing more than to be pampered. Sit him on your lap and he will happily cuddle for hours. The breed has heart melting, dark round eyes and a constantly wagging tail. These, more than anything else, truly are testimony to his sweet and gentle disposition. Words that describe the Cavalier include sturdy, hardy and extrovert. The breed is highly intelligent, eager to please and willing to learn, making them an easy to train dog. They are excellent with both children and the elderly. This breed doesn't like to spend time alone as they become very attached to their family and thrive on human company and lots of attention. The Cavaliers are not excessive barkers but will announce strangers. However, they are not great as guard dogs as they greet most people warmly. A Cavalier makes friends wherever he goes, including cats and other small pets.
Free Online Workshop On Dog Training
Join our next free online workshop and learn the secrets that the pros at the K9 Training Institute use to train service dogs to be so calm and well-behaved – and how you can use those same training methods to train YOUR dog!
Space is limited – so please reserve your spot right away.
Will a Cavalier King Charles Spaniel be a suitable dog for my family?
Will a King Charles Cavalier Spaniel be a suitable dog for my family:
Yes, if you want a miniature or small dog (up to 35lbs)
As long as you have at least a small back yard for your dog to run free
Your back yard is securely fenced
If you are able to spend at least 1-2 hours total per day for the feeding, exercising, training, and grooming of your dog
Cavaliers are a good choice if you want a medium to long coated dog
As long as you are prepared to have a dog that sheds all year round
They are a good choice for those who have children no younger than teenagers at home (or who regularly visit the house)
Yes, especially if you want a breed that generally takes less than 6 weeks to fully housebreak
If you want a dog that is very active and can join in with your activities (e. g. jog with you, play active games, go hiking, etc.)
The Cavalier is a relatively easy dog to train, so is ideal for the less experienced owner
If you want a dog that barks very little and is non-aggressive
This is a great choice if you are a first time dog owner
Then Cavalier King Charles Spaniel is the best suited Dog for you.
Cavalier King Charles Spaniel Stat Chart
Rating System:
Ease of training: 1 is hard to train, 5 is easy
Ease of grooming: 1 is hard to groom, 5 is easy
Sociability: 1 is not social, 5 is very social
Guarding: 1 is not a good guard dog, 5 is very good guard dog
Suitable for Apartments: 1 is not suitable, 5 is very suitable
Noisiness: 1 is quiet, 5 is loud
Biting and Nipping: 1 is doesn't nip/bite, 5 high chance of biting/nipping
Energy Level: 1 is low energy, 5 is high energy
Shedding: 1 is low energy, 5 is high shedding
Affection: 1 is not very friendly, 5 is very friendly
Exercise Requirements: 1 is low exercise needed, 5 is a lot of exercise
Breed Stat
Breed Group: Toy Group
Size: Small,Toy or Tiny
Life span: Over 12 Years
Exercise: Up to 1 hour per day
Grooming: More than once a week
Coat length: Medium
Coat sheds?: Yes
Home Size: Large,Small,Flat
Garden Size: Medium,Small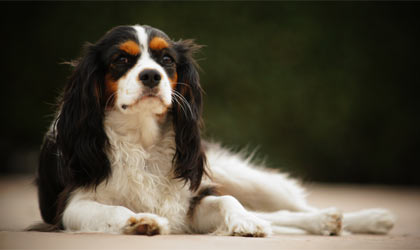 Rating System:
Ease of training: 1 is hard to train, 5 is easy
Ease of grooming: 1 is hard to groom, 5 is easy
Sociability: 1 is not social, 5 is very social
Guarding: 1 is not a good guard dog, 5 is very good guard dog
Suitable for Apartments: 1 is not suitable, 5 is very suitable
Noisiness: 1 is quiet, 5 is loud
Biting and Nipping: 1 is doesn't nip/bite, 5 high chance of biting/nipping
Energy Level: 1 is low energy, 5 is high energy
Shedding: 1 is low energy, 5 is high shedding
Affection: 1 is not very friendly, 5 is very friendly
Exercise Requirements: 1 is low exercise needed, 5 is a lot of exercise