Dachshund – A tough little number that's more dog than sausage.
Training and care tips for the Dachshund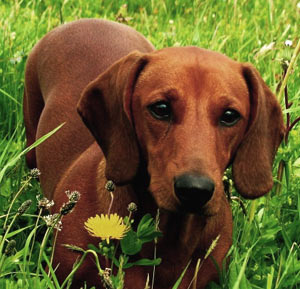 Breed Introduction
The Dachshund, affectionately referred to as the 'weiner' or 'sausage' dog is short on leg but long on personality. Don't let this breed fool you, as this small, drop-eared scent hound is tough enough to take on a badger. In fact, that's what he was bred for and how he got his name (Dachs meaning badger; hund meaning dog). Dachshunds are a wonderful addition to any family, with his curious, persistent and fun-loving nature. He loves being involved in family activities. Usually Dachshunds bond closely with a single family member. This means they have a tendency to get jealous of their owner's attention and become snappy if not trained and socialized properly. They appear to possess seemingly boundless energy, and certainly have the ability to keep you well entertained. Because he likes to vocalize readily when strangers approach, the breed can be a good watchdog. However, if you have close neighbors this might mean they get annoyed rather than amused by his. If introduced at an early age, the Dachshund can bond well with children. The breed is intelligent and willing to learn. However, they can be somewhat stubborn and independent. This trait can make their training challenging, but nonetheless fun.
Free Online Workshop On Dog Training
Join our next free online workshop and learn the secrets that the pros at the K9 Training Institute use to train service dogs to be so calm and well-behaved – and how you can use those same training methods to train YOUR dog!
Space is limited – so please reserve your spot right away.
Will a Dachshund be a suitable dog for my family?
Will the Dachshund be a suitable dog for my family?
Yes, if you want a small sized dog (12-35lbs)
If you have a small back yard or no back yard at all
Whether or not your back yard is securely fenced
If you are able to spend at least 45-60 minutes total per day for the feeding, exercising, training, and grooming of your dog
You don't mind if your dog's coat is smooth, medium or long in length
As log as you don't mind a dog that sheds all year round
The youngest person in your home (or who regularly visits) is over 13 years old
As long as you have plenty of time and the tenacity necessary to housebreak your dog
You want a fairly sedentary pet (e.g. a dog that is happy simply lying around most of the time)
As long as you don't mind a dog that can be a little stubborn to train
If you want a dog that will bark to warn you of odd noises or strangers
If you've owned a dog in the past or presently own a dog
Then Dachshund is the best suited Dog for you.
Dachshund Stat Chart
Rating System:
Ease of training: 1 is hard to train, 5 is easy
Ease of grooming: 1 is hard to groom, 5 is easy
Sociability: 1 is not social, 5 is very social
Guarding: 1 is not a good guard dog, 5 is very good guard dog
Suitable for Apartments: 1 is not suitable, 5 is very suitable
Noisiness: 1 is quiet, 5 is loud
Biting and Nipping: 1 is doesn't nip/bite, 5 high chance of biting/nipping
Energy Level: 1 is low energy, 5 is high energy
Shedding: 1 is low energy, 5 is high shedding
Affection: 1 is not very friendly, 5 is very friendly
Exercise Requirements: 1 is low exercise needed, 5 is a lot of exercise
Breed Stat
Breed Group: Hound Group
Size: Small,Toy or Tiny
Life span: Over 10 Years
Exercise: Up to 1 hour per day
Grooming: Once a week (Smooth-Haired) / More than once a week (Long-Haired and Wire-Haired)
Coat length: Medium,Short
Coat sheds?: Yes
Home Size: Large,Small
Garden Size: Medium,Small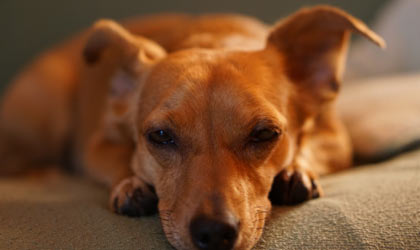 Rating System:
Ease of training: 1 is hard to train, 5 is easy
Ease of grooming: 1 is hard to groom, 5 is easy
Sociability: 1 is not social, 5 is very social
Guarding: 1 is not a good guard dog, 5 is very good guard dog
Suitable for Apartments: 1 is not suitable, 5 is very suitable
Noisiness: 1 is quiet, 5 is loud
Biting and Nipping: 1 is doesn't nip/bite, 5 high chance of biting/nipping
Energy Level: 1 is low energy, 5 is high energy
Shedding: 1 is low energy, 5 is high shedding
Affection: 1 is not very friendly, 5 is very friendly
Exercise Requirements: 1 is low exercise needed, 5 is a lot of exercise