Loyal and Fearless – the Aristocratic Doberman Pinscher
Breed specific ownership and care tips for the Doberman Pinscher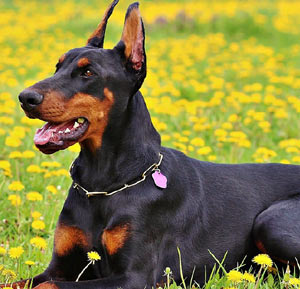 Breed Introduction
In terms of dog breeds, the Doberman Pinscher is a relatively new breed. There's no doubting the breed has an air of elegance and strength, and he certainly is a courageous guardian. Originally bred as a fierce guard dog, today the breed is far less aggressive than his ancestors of the past. The Doberman is far more likely to be seen today in the role of a family pet than as that of a guard dog, although good training is essential early in life. Affectionately known as Dobies, they enjoy being part of the family and are trustworthy around their 'pack' as long as they're brought up in the correct manner. However, they don't like teasing, therefore children must be taught how to behave around him. They are loyal, affectionate and closely bond to those who they love. Dobermans are extremely alert and fearless, and will protect their family and territory from any perceived danger. They are natural protectors and do not need additional "protection" training to be an outstanding guard dog. In fact, they should be consistently trained and socialized from an early age to prevent over-protectiveness. The Doberman is a large active dog with dominant traits that needs a lot of exercise, mental stimulation and an owner with strong leadership quality, meaning that he might not be the ideal dog for every situation or family.
Free Online Workshop On Dog Training
Join our next free online workshop and learn the secrets that the pros at the K9 Training Institute use to train service dogs to be so calm and well-behaved – and how you can use those same training methods to train YOUR dog!
Space is limited – so please reserve your spot right away.
Will a Doberman Pinscher be a suitable dog for my family?
Will a Doberman be a suitable dog for my family?
Yes, if you want a large sized dog (60-120+lbs)
As long as you have a back yard of at least half an acre for your dog to run free in
Your back yard is well secured with a highly visible fence
If you are able to spend at least 1-2 hours total per day for the feeding, exercising, training, and grooming of your dog
You want a smooth coated dog
As long as you don't mind a dog that sheds its coat on a year round basis
Yes, if the youngest person in your house (or that regularly visits) is over 18 years old.
You want a dog that takes an average amount of time to housebreak (6-12 weeks)
If your dog is very active (e. g. jog with you, play active games, go hiking, etc.)
You don't mind a dog that can be a little stubborn when it comes to training issues.
If you want a dog that will defend you or your property if necessary
The Doberman is best owned by those with previous experience of owning dogs, or if you currently own a dog
Then Doberman Pinscher is the best suited Dog for you.
Doberman Pinscher Stat Chart
Rating System:
Ease of training: 1 is hard to train, 5 is easy
Ease of grooming: 1 is hard to groom, 5 is easy
Sociability: 1 is not social, 5 is very social
Guarding: 1 is not a good guard dog, 5 is very good guard dog
Suitable for Apartments: 1 is not suitable, 5 is very suitable
Noisiness: 1 is quiet, 5 is loud
Biting and Nipping: 1 is doesn't nip/bite, 5 high chance of biting/nipping
Energy Level: 1 is low energy, 5 is high energy
Shedding: 1 is low energy, 5 is high shedding
Affection: 1 is not very friendly, 5 is very friendly
Exercise Requirements: 1 is low exercise needed, 5 is a lot of exercise
Breed Stat
Breed Group: Working Group
Size: Large
Life span: Over 10 Years
Exercise: More than 2 hours per day
Grooming: Once a week
Coat length: Short
Coat sheds?: Yes
Home Size: Large
Garden Size: Large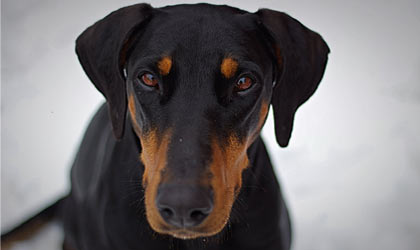 Rating System:
Ease of training: 1 is hard to train, 5 is easy
Ease of grooming: 1 is hard to groom, 5 is easy
Sociability: 1 is not social, 5 is very social
Guarding: 1 is not a good guard dog, 5 is very good guard dog
Suitable for Apartments: 1 is not suitable, 5 is very suitable
Noisiness: 1 is quiet, 5 is loud
Biting and Nipping: 1 is doesn't nip/bite, 5 high chance of biting/nipping
Energy Level: 1 is low energy, 5 is high energy
Shedding: 1 is low energy, 5 is high shedding
Affection: 1 is not very friendly, 5 is very friendly
Exercise Requirements: 1 is low exercise needed, 5 is a lot of exercise