The English Springer Spaniel – A true sportsman…
Looking after the English Springer Spaniel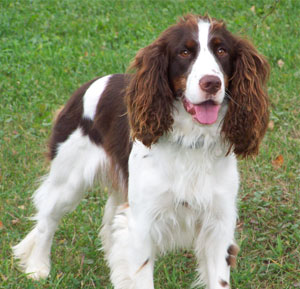 Breed Introduction
The English Springer Spaniel is the largest of the spaniel breed, and is filled with boundless enthusiasm and vitality. This strong, sturdy sporting dog thrives on activity, meaning they excel as companions for active children. The English Springer Spaniel requires plenty of exercise as they are bred to be hunting dogs, constantly on the hunt for game. Their qualities are endless; smart, versatile, gentle, affectionate, eager to please, quick to learn and willing to obey. Though faithful and loyal, they do not do well as a guard dog. However, they will alert their family when strangers approach. Springer Spaniels are very people oriented and because of this they don't do well if left home alone for longer periods. Dominance and aggression are not common in this breed but can be a problem if not trained and socialized from an early age.
Free Online Workshop On Dog Training
Join our next free online workshop and learn the secrets that the pros at the K9 Training Institute use to train service dogs to be so calm and well-behaved – and how you can use those same training methods to train YOUR dog!
Space is limited – so please reserve your spot right away.
Will an English Springer Spaniel be a suitable dog for my family?
Will the English Springer Spaniel be a suitable dog for my family?
Yes if you're looking for a medium sized dog (around 30-65lbs)
You have a back yard of at least 1 1/2 acres in size
If the yard is secured with a visible fence
As long as you're able to spend at least 1-2 hours total per day for the feeding, exercising, training, and grooming of your dog
You want a double coated dog
The English Springer Spaniel is ideal if you want a dog that only sheds its coat twice a year
You have young children or infants in the house
If you want a dog that needs average housebreaking time (around 6-12 weeks)
You want a dog that is active in specific area (e.g. hunting, flyball, or agility)
You're looking for a dog that is generally easy to train
You don't want an aggressive dog or one that barks a lot
This breed is a great choice if this is to be your first dog that you've owned as an adult
Then English Springer Spaniel is the best suited Dog for you.
English Springer Spaniel Stat Chart
Rating System:
Ease of training: 1 is hard to train, 5 is easy
Ease of grooming: 1 is hard to groom, 5 is easy
Sociability: 1 is not social, 5 is very social
Guarding: 1 is not a good guard dog, 5 is very good guard dog
Suitable for Apartments: 1 is not suitable, 5 is very suitable
Noisiness: 1 is quiet, 5 is loud
Biting and Nipping: 1 is doesn't nip/bite, 5 high chance of biting/nipping
Energy Level: 1 is low energy, 5 is high energy
Shedding: 1 is low energy, 5 is high shedding
Affection: 1 is not very friendly, 5 is very friendly
Exercise Requirements: 1 is low exercise needed, 5 is a lot of exercise
Breed Stat
Breed Group: Sporting Group
Size: Medium
Life span: Over 10 Years
Exercise: More than 2 hours per day
Grooming: More than once a week
Coat length: Medium
Coat sheds?: Yes
Home Size: Large,Small
Garden Size: Large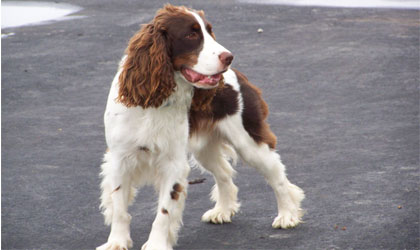 Rating System:
Ease of training: 1 is hard to train, 5 is easy
Ease of grooming: 1 is hard to groom, 5 is easy
Sociability: 1 is not social, 5 is very social
Guarding: 1 is not a good guard dog, 5 is very good guard dog
Suitable for Apartments: 1 is not suitable, 5 is very suitable
Noisiness: 1 is quiet, 5 is loud
Biting and Nipping: 1 is doesn't nip/bite, 5 high chance of biting/nipping
Energy Level: 1 is low energy, 5 is high energy
Shedding: 1 is low energy, 5 is high shedding
Affection: 1 is not very friendly, 5 is very friendly
Exercise Requirements: 1 is low exercise needed, 5 is a lot of exercise