German Shepherd Dog (Alsatian) – Loyal, powerful and protector of all they survey
Care and training of the German Shepherd Dog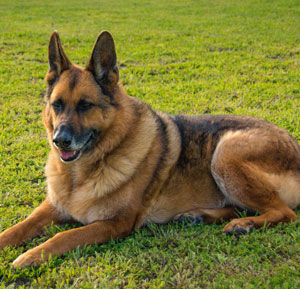 Breed Introduction
One of the most popular and devoted companion dogs worldwide, the German Shepherd (or the Alsatian, as he's often referred to), is a highly intelligent dog, who is powerful, elegant and a natural protector. It's often said that once you've had one German Shepherd, you'll never be persuaded to own any other breed. They are quick to learn, obedient, happy dogs that rarely show any stubbornness. A German Shepherd lives to please his owner! However, a great deal of mental stimulation and early socialization are a must to develop non-aggressive self-confidence and a steady temperament. Though not overly affectionate, shepherds are undoubtedly loyal and faithful to their master. As per the AKC Standard, the German Shepherd "has a distinct personality marked by direct and fearless, but not hostile, expression, self-confidence, and a certain aloofness that does not lend itself to immediate and indiscriminate friendships. The dog must be approachable, quietly standing its ground and showing confidence and willingness to meet overtures without itself making them."
And that certainly describes the qualities of this immediately recognizable breed!
A well-bred German Shepherd is an excellent pet for a family with children, especially older children.
Free Online Workshop On Dog Training
Join our next free online workshop and learn the secrets that the pros at the K9 Training Institute use to train service dogs to be so calm and well-behaved – and how you can use those same training methods to train YOUR dog!
Space is limited – so please reserve your spot right away.
Will a German Shepherd be a suitable dog for my family?
Will a German Shepherd be a suitable dog for my family?
Yes, if you're looking for a large sized dog (60-120+lbs)
As long as you have a back yard of at least 1 1/2 acres in size
Your back yard is secure with highly visible fencing
If you are able to spend at least 45-60 minutes to 1-2 hours total per day for the feeding, exercising, training, and grooming of your dog
You want a dog with either a long or double coat
As long as you don't mind a dog that sheds all year round
There aren't any children (or regular visitors to the house) below the age of 5 years
You want a dog that's easy to housebreak (generally taking less than 6 weeks)
You're looking for a breed that's reasonably active when a puppy, but settles as it matures into adulthood. An ideal dog if it might need to be left home alone during the day
Yes, if you want a dog that is extremely easy to train
You want a dog that will defend you or your property if necessary
You've owned dogs in the past or you presently own a dog
Then German Shepherd is the best suited Dog for you.
German Shepherd Stat Chart
Rating System:
Ease of training: 1 is hard to train, 5 is easy
Ease of grooming: 1 is hard to groom, 5 is easy
Sociability: 1 is not social, 5 is very social
Guarding: 1 is not a good guard dog, 5 is very good guard dog
Suitable for Apartments: 1 is not suitable, 5 is very suitable
Noisiness: 1 is quiet, 5 is loud
Biting and Nipping: 1 is doesn't nip/bite, 5 high chance of biting/nipping
Energy Level: 1 is low energy, 5 is high energy
Shedding: 1 is low energy, 5 is high shedding
Affection: 1 is not very friendly, 5 is very friendly
Exercise Requirements: 1 is low exercise needed, 5 is a lot of exercise
Breed Stat
Breed Group: Herding Group
Size: Large
Life span: Over 10 Years
Exercise: More than 2 hours per day
Grooming: More than once a week
Coat length: Short
Coat sheds?: Yes
Home Size: Large
Garden Size: Large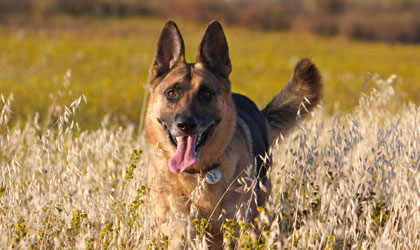 Rating System:
Ease of training: 1 is hard to train, 5 is easy
Ease of grooming: 1 is hard to groom, 5 is easy
Sociability: 1 is not social, 5 is very social
Guarding: 1 is not a good guard dog, 5 is very good guard dog
Suitable for Apartments: 1 is not suitable, 5 is very suitable
Noisiness: 1 is quiet, 5 is loud
Biting and Nipping: 1 is doesn't nip/bite, 5 high chance of biting/nipping
Energy Level: 1 is low energy, 5 is high energy
Shedding: 1 is low energy, 5 is high shedding
Affection: 1 is not very friendly, 5 is very friendly
Exercise Requirements: 1 is low exercise needed, 5 is a lot of exercise