The Golden Retriever – One of the most eager to please dogs on the planet
How to best care for a Golden Retriever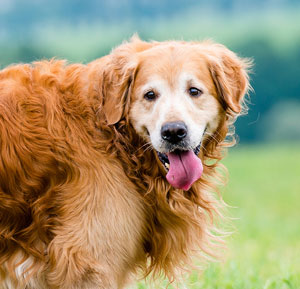 Breed Introduction
The Golden Retriever, whose history can be traced back to the latter half of the 19th century, consistently tops the list of most favorite and loved family pets in the world. So why is that? Well, his attributes are many, beginning with how easy he is to train (from basic obedience right through to his use as an assistance and disability dog) right through to his unlimited sense of fun, amiable personality to willingness to do whatever you wish. These, and many other, valued qualities have drawn many people to fall hopelessly in love with the breed over the decades. The Golden Retriever is a smart and gentle dog, yet he's also a highly capable working dog. Playful and eager to please, they often retain these puppyish traits right through into old age. The Golden Retriever excels as a family companion thanks to their tolerant attitude, natural abilities with children and their strong affection for all things human. They do need a good amount of daily exercise, both physically and mentally to keep them in top condition. Apart from a walk at the beach or park, he's happiest when included in your family activities. A tired Golden Retriever is a well-behaved Golden Retriever. This breed is definitely not a watchdog. They might bark at strangers, but are most likely to welcome them with a wagging tail and that unique Golden smile.
Free Online Workshop On Dog Training
Join our next free online workshop and learn the secrets that the pros at the K9 Training Institute use to train service dogs to be so calm and well-behaved – and how you can use those same training methods to train YOUR dog!
Space is limited – so please reserve your spot right away.
Will a Golden Retriever be a suitable dog for my family?
Will a Golden Retriever be a suitable dog for my family?
Yes, if you want a medium to large sized dog (30-120lbs+)
You have a back yard of at least half an acre for him to run free
Your back yard is well secured with a highly visible fence
If you are able to spend at least 1-2 hours total per day for the feeding, exercising, training, and grooming of your dog
As long as you want a long coated dog
If you don't mind a dog that sheds all year round
There are young children or infants in the home
As long as you have the time and persistence necessary to successfully housebreak your dog
You want a dog that is reasonably active as a puppy but that settles as he matures into adulthood. The Golden Retriever is also suitable if he might need to be left at home alone during the day
If you want a dog that is very easy to train
You want a dog that barks very little and is non aggressive
The Golden Retriever is a great choice for the first time dog owner
Then Golden Retriever is the best suited Dog for you.
Golden Retriever Stat Chart
Rating System:
Ease of training: 1 is hard to train, 5 is easy
Ease of grooming: 1 is hard to groom, 5 is easy
Sociability: 1 is not social, 5 is very social
Guarding: 1 is not a good guard dog, 5 is very good guard dog
Suitable for Apartments: 1 is not suitable, 5 is very suitable
Noisiness: 1 is quiet, 5 is loud
Biting and Nipping: 1 is doesn't nip/bite, 5 high chance of biting/nipping
Energy Level: 1 is low energy, 5 is high energy
Shedding: 1 is low energy, 5 is high shedding
Affection: 1 is not very friendly, 5 is very friendly
Exercise Requirements: 1 is low exercise needed, 5 is a lot of exercise
Breed Stat
Breed Group: Sporting Group
Size: Large,Medium
Life span: Over 10 Years
Exercise: More than 2 hours per day
Grooming: More than once a week
Coat length: Medium
Coat sheds?: Yes
Home Size: Large
Garden Size: Large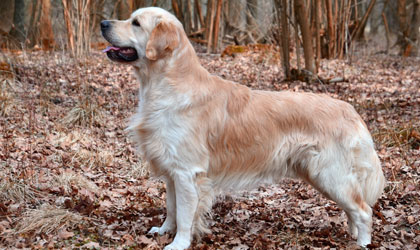 Rating System:
Ease of training: 1 is hard to train, 5 is easy
Ease of grooming: 1 is hard to groom, 5 is easy
Sociability: 1 is not social, 5 is very social
Guarding: 1 is not a good guard dog, 5 is very good guard dog
Suitable for Apartments: 1 is not suitable, 5 is very suitable
Noisiness: 1 is quiet, 5 is loud
Biting and Nipping: 1 is doesn't nip/bite, 5 high chance of biting/nipping
Energy Level: 1 is low energy, 5 is high energy
Shedding: 1 is low energy, 5 is high shedding
Affection: 1 is not very friendly, 5 is very friendly
Exercise Requirements: 1 is low exercise needed, 5 is a lot of exercise