Maltese – The perfect toy companion dog
The best information on looking after a Maltese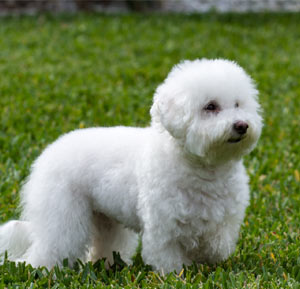 Breed Introduction
The Maltese is perhaps one of the most well known of all the toy dogs. The breed has been kept as a companion dog for many centuries, thanks to his love of happily sitting on his owners lap and taking advantage of being the center of attention. But don't let this fool you into thinking that they don't have a lively and playful spirit lurking beneath… Unlike other small dogs, such as terriers, the Maltese doesn't usually have a penchant for mischief, being more like a spaniel in nature. They are intelligent dogs, with a bold air to their nature, meaning they can be somewhat strong willed. Though too small and delicate to confront an intruder, their extreme alertness and love of the sound of their own voice makes them an effective watchdog. The Maltese demands a lot of human attention, becoming devoted to their owner. This means they can suffer from separation anxiety and become destructive if left alone for long periods of time. However, they should still be treated as a dog, and not over pampered, despite their miniature size. This is not a breed to be recommended for families with small children or older, rough playing children due both to their intolerant nature and their own tiny size that makes them prone to injury. An early socialization and exposure to a variety of situations is a must for a Maltese to grow up as a well-rounded dog.
Free Online Workshop On Dog Training
Join our next free online workshop and learn the secrets that the pros at the K9 Training Institute use to train service dogs to be so calm and well-behaved – and how you can use those same training methods to train YOUR dog!
Space is limited – so please reserve your spot right away.
Will a Maltese be a suitable dog for my family?
Will a Maltese be a suitable dog for my family?
Yes, if you want a tiny sized dog (less than 15lbs)
If you have a small back yard or no back yard at all
Whether or not your back yard (if you have one) is fenced or unfenced
If you are able to spend at least 45-60 minutes total per day for the feeding, exercising, training, and grooming of your dog
As long as you want a long haired dog
You'd prefer to have a dog that doesn't shed its coat – although the Maltese may need frequent clipping and/or grooming. It's also believed that this type of dog may cause less problems for those with an allergy to dog hair
There's no-one in your home (or who regularly visits) who is under 25 years of age
You have plenty of time and the tenacity to housebreak your dog, including the persistence necessary for extended training should this be needed
Ideally you'd like a dog who will be fairly active as a puppy but then become more settled as he matures into adulthood. A Maltese is a good choice for a dog that might have to be left home alone during the day
If you want a dog who is generally easy to train (and takes an average amount of time to do so)
You want a dog that will bark to warn you of odd noises or strangers
The Maltese is a good choice for first time dog owners
Then Maltese is the best suited Dog for you.
Maltese Stat Chart
Rating System:
Ease of training: 1 is hard to train, 5 is easy
Ease of grooming: 1 is hard to groom, 5 is easy
Sociability: 1 is not social, 5 is very social
Guarding: 1 is not a good guard dog, 5 is very good guard dog
Suitable for Apartments: 1 is not suitable, 5 is very suitable
Noisiness: 1 is quiet, 5 is loud
Biting and Nipping: 1 is doesn't nip/bite, 5 high chance of biting/nipping
Energy Level: 1 is low energy, 5 is high energy
Shedding: 1 is low energy, 5 is high shedding
Affection: 1 is not very friendly, 5 is very friendly
Exercise Requirements: 1 is low exercise needed, 5 is a lot of exercise
Breed Stat
Breed Group: Toy Group
Size: Small
Life span: Over 12 Years
Exercise: Up to 30 minutes per day
Grooming: Every day
Coat length: Long
Coat sheds?: No
Home Size: Large,Small,Flat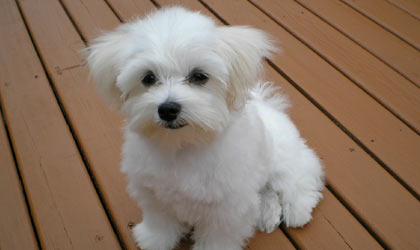 Rating System:
Ease of training: 1 is hard to train, 5 is easy
Ease of grooming: 1 is hard to groom, 5 is easy
Sociability: 1 is not social, 5 is very social
Guarding: 1 is not a good guard dog, 5 is very good guard dog
Suitable for Apartments: 1 is not suitable, 5 is very suitable
Noisiness: 1 is quiet, 5 is loud
Biting and Nipping: 1 is doesn't nip/bite, 5 high chance of biting/nipping
Energy Level: 1 is low energy, 5 is high energy
Shedding: 1 is low energy, 5 is high shedding
Affection: 1 is not very friendly, 5 is very friendly
Exercise Requirements: 1 is low exercise needed, 5 is a lot of exercise