Mastiff – Large in size but calm by nature
The best online information on caring for a Mastiff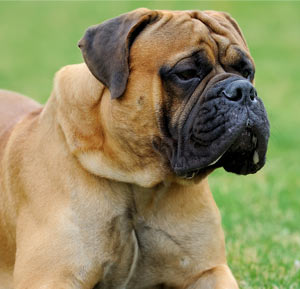 Breed Introduction
The Mastiff, also known as the Old English Mastiff, is a large and powerful dog who is without a doubt a regal looking companion. The breed is both brave and loyal, and is often used as a guard dog with great success. Admittedly their size has a lot to do with this, and can certainly be daunting to those with trouble in mind. However, they are generally good natured and most are pretty docile. In fact, at heart the Mastiff wants nothing more than to be a peaceful dog, but this doesn't mean that he won't step up to protect his family if danger threatens. Mastiffs have the same wild streak during puppyhood as any other breed, but soon mature into a calm dog who loves being with his family. The breed has a long history, and has been known for generations for its loving and dignified nature. However, they do have an underlying stubbornness, and Mastiffs can develop some serious faults in temperament if not properly socialized and trained. And, as an aside, if you hate dog slobber, then this is not a dog for you.
Free Online Workshop On Dog Training
Join our next free online workshop and learn the secrets that the pros at the K9 Training Institute use to train service dogs to be so calm and well-behaved – and how you can use those same training methods to train YOUR dog!
Space is limited – so please reserve your spot right away.
Will a Mastiff be a suitable dog for my family?
Will a Mastiff be a suitable dog for my family?
Yes, if you want a large sized dog (60-120lbs+).
Whether you have a small back yard or no back yard at all
If you have a back yard, as long as it is securely and visibly fenced
If you are able to spend at least 45-60 minutes total per day for the feeding, exercising, training, and grooming of your dog
You want a dog with a short coat
As long as you don't mind a dog that sheds all year round
There is no-one in your home (or who regularly visits) under the age of 5 years
You're aware that you'll need plenty of time and persistence to housebreak your dog
If you want a dog whose activity level is sedentary (e.g. a dog that is happy simply lying around most of the time)
You don't mind a dog that can be a little stubborn when it comes to training
If you want a dog that barks very little and is non-aggressive
The Mastiff is a great choice for the first time dog owner
Then Mastiff is the best suited Dog for you.
Mastiff Stat Chart
Rating System:
Ease of training: 1 is hard to train, 5 is easy
Ease of grooming: 1 is hard to groom, 5 is easy
Sociability: 1 is not social, 5 is very social
Guarding: 1 is not a good guard dog, 5 is very good guard dog
Suitable for Apartments: 1 is not suitable, 5 is very suitable
Noisiness: 1 is quiet, 5 is loud
Biting and Nipping: 1 is doesn't nip/bite, 5 high chance of biting/nipping
Energy Level: 1 is low energy, 5 is high energy
Shedding: 1 is low energy, 5 is high shedding
Affection: 1 is not very friendly, 5 is very friendly
Exercise Requirements: 1 is low exercise needed, 5 is a lot of exercise
Breed Stat
Breed Group: Working Group
Size: Large
Life span: Under 10 Years
Exercise: Up to 1 hour per day
Grooming: Once a week
Coat length: Short
Coat sheds?: Yes
Home Size: Large
Garden Size: Medium,Small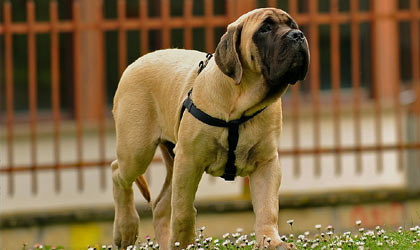 Rating System:
Ease of training: 1 is hard to train, 5 is easy
Ease of grooming: 1 is hard to groom, 5 is easy
Sociability: 1 is not social, 5 is very social
Guarding: 1 is not a good guard dog, 5 is very good guard dog
Suitable for Apartments: 1 is not suitable, 5 is very suitable
Noisiness: 1 is quiet, 5 is loud
Biting and Nipping: 1 is doesn't nip/bite, 5 high chance of biting/nipping
Energy Level: 1 is low energy, 5 is high energy
Shedding: 1 is low energy, 5 is high shedding
Affection: 1 is not very friendly, 5 is very friendly
Exercise Requirements: 1 is low exercise needed, 5 is a lot of exercise