Miniature Pinscher – Small in size but huge in stature
Training, care and ownership of the Miniature Pinscher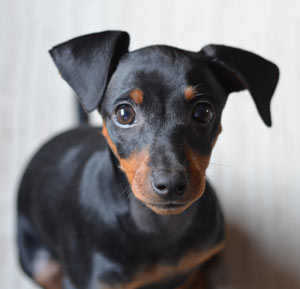 Breed Introduction
If you want a dog that will keep you entertained for the duration of its life, look no further than the Miniature Pinscher. Despite his tiny size, he has a demeanor of a dog far larger than himself, and what he lacks in size he certainly makes up for in confidence. The Miniature Pinscher is fearless and always ready for action. He's a wonderful companion dog that craves attention, affection and company from his family. He's also a curious chap, as well as being a skilled escape artist meaning any owner needs to have eyes in the back of their head to ensure his safety. When outside it's extremely advisable for this breed to be kept on a leash unless in a securely fenced environment. Loyal and possessive, the Min Pin makes a great watchdog. They are wary of strangers and tend to bark (a lot) to announce their approach. They get along well with other house pets if socialized from an early age. Obedience training is vital, as without it there is a tendency to become stubborn and dominant. This is partly because of their high intelligence, which makes them easy to train as long as it's carried out in a gentle and persistent manner.
Free Online Workshop On Dog Training
Join our next free online workshop and learn the secrets that the pros at the K9 Training Institute use to train service dogs to be so calm and well-behaved – and how you can use those same training methods to train YOUR dog!
Space is limited – so please reserve your spot right away.
Will a Miniature Pinscher be a suitable dog for my family?
Will a Miniature Pinscher be a suitable dog for my family?
Yes, if you want a tiny sized dog (under 15lbs)
Whatever size back yard you have, or if you have no back yard at all
If you are able to spend at least 45-60 minutes to 1-2 hours total per day for the feeding, exercising, training, and grooming of your dog
You want a dog with a smooth coat
As long as you don't mind a dog that sheds on a year round basis
There is no-one in your house (or who visits regularly) below the age of 18 years
You want a dog that takes an average amount of time to housebreak (around 6-12 weeks)
If you want a dog that's reasonably active as a puppy but that settles as it matures into adulthood. The Min Pin is a good choice if you need a dog that can be left home alone during the day
As long as you don't mind a dog that can be a little stubborn to train
If you want a dog that will bark to warn you of odd noises or strangers and will defend you or your property if necessary
The Miniature Pinscher is best owned by those who've had dogs in the past or currently own a dog
Then Miniature Pinscher is the best suited Dog for you.
Miniature Pinscher Stat Chart
Rating System:
Ease of training: 1 is hard to train, 5 is easy
Ease of grooming: 1 is hard to groom, 5 is easy
Sociability: 1 is not social, 5 is very social
Guarding: 1 is not a good guard dog, 5 is very good guard dog
Suitable for Apartments: 1 is not suitable, 5 is very suitable
Noisiness: 1 is quiet, 5 is loud
Biting and Nipping: 1 is doesn't nip/bite, 5 high chance of biting/nipping
Energy Level: 1 is low energy, 5 is high energy
Shedding: 1 is low energy, 5 is high shedding
Affection: 1 is not very friendly, 5 is very friendly
Exercise Requirements: 1 is low exercise needed, 5 is a lot of exercise
Breed Stat
Breed Group: Toy Group
Size: Toy or Tiny
Life span: Over 12 Years
Exercise: Up to 30 minutes per day
Grooming: Once a week
Coat length: Short
Coat sheds?: Yes
Home Size: Large,Small,Flat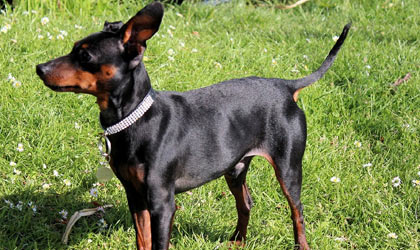 Rating System:
Ease of training: 1 is hard to train, 5 is easy
Ease of grooming: 1 is hard to groom, 5 is easy
Sociability: 1 is not social, 5 is very social
Guarding: 1 is not a good guard dog, 5 is very good guard dog
Suitable for Apartments: 1 is not suitable, 5 is very suitable
Noisiness: 1 is quiet, 5 is loud
Biting and Nipping: 1 is doesn't nip/bite, 5 high chance of biting/nipping
Energy Level: 1 is low energy, 5 is high energy
Shedding: 1 is low energy, 5 is high shedding
Affection: 1 is not very friendly, 5 is very friendly
Exercise Requirements: 1 is low exercise needed, 5 is a lot of exercise