Miniature Poodle – A sophisticated dog that stands out in a crowd
Top tips on looking after and caring for a Poodle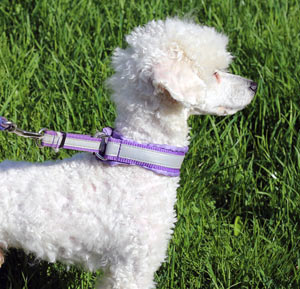 Breed Introduction
Although Poodles have long been a favorite in the show ring, this breed is certainly not a dog that doesn't have brains as well as stunning good looks. Behind the red ribbons, impressive hairdos and majestic attitude, you'll discover an affectionate family dog with many talents. Poodles are high-spirited and friendly dogs who thrive on human contact and love to be involved in family life. They get along famously with children and other family pets, as well as being a natural comedian who will provide the whole family with years of entertainment. Poodles are renowned for their proud, dignified personality and, many may be surprised to find out, they also excel as watch dogs, announcing the entry of an intruder but never being aggressive. Poodles are always a solid color, but can be found in a wonderful variety of shades. There are three sizes of Poodle – Toy, Miniature and Standard – the Standard being the oldest of the three varieties. No matter what size, Poodles are extraordinarily sensitive to vocal intonation, probably one of the reasons they are so easy to train.
Free Online Workshop On Dog Training
Join our next free online workshop and learn the secrets that the pros at the K9 Training Institute use to train service dogs to be so calm and well-behaved – and how you can use those same training methods to train YOUR dog!
Space is limited – so please reserve your spot right away.
Will a Miniature Poodle be a suitable dog for my family?
Will a Poodle be a suitable dog for my family?
Yes, if you want a small sized dog (12-35lobs)
Whether you have a small yard or no back yard at all
If you have a back yard, as long as it's secured with a highly visible fence
If you are able to spend at least 45-60 minutes total per day for the feeding, exercising, training, and grooming of your dog
As long as you want a double coated dog
The Poodle is a good choice if you want a dog that doesn't shed. However it may well need clipping/grooming frequently to keep the coat in good health. This type of dog is believed to cause less problems for humans with an allergy to pet hair
If you have infants or young children in the house
This is a great choice if you want an easy to housebreak dog (generally taking less than 6 weeks)
If you want a dog that's reasonable active as a puppy, but that matures into a more settled dog. The Poodle is a good choice if you need a dog that can be left home alone during the day
Yes, if you want a dog that is extremely easy to train
If you want a dog that will bark to warn you of odd noises or strangers
A Poodle is a great choice for the first time dog owner
Then Miniature Poodle is the best suited Dog for you.
Miniature Poodle Stat Chart
Actually, depending on the size of the Poodle, they have Guarding instinct varying from 1 to 3. For Toy Poodles, it is least i.e. 1. For Miniature Poodles, it is 1. For Standard Poodles, it is 3.
Rating System:
Ease of training: 1 is hard to train, 5 is easy
Ease of grooming: 1 is hard to groom, 5 is easy
Sociability: 1 is not social, 5 is very social
Guarding: 1 is not a good guard dog, 5 is very good guard dog
Suitable for Apartments: 1 is not suitable, 5 is very suitable
Noisiness: 1 is quiet, 5 is loud
Biting and Nipping: 1 is doesn't nip/bite, 5 high chance of biting/nipping
Energy Level: 1 is low energy, 5 is high energy
Shedding: 1 is low energy, 5 is high shedding
Affection: 1 is not very friendly, 5 is very friendly
Exercise Requirements: 1 is low exercise needed, 5 is a lot of exercise
Breed Stat
Breed Group: Non Sporting Group
Size: Small
Life span: Over 12 Years
Exercise: Up to 1 hour per day
Grooming: Every day
Coat length: Medium
Coat sheds?: No
Home Size: Large,Small
Garden Size: Medium,Small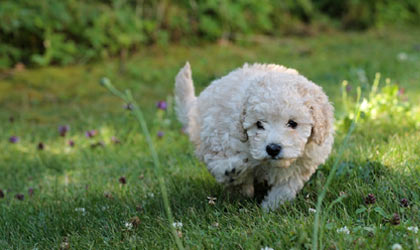 Rating System:
Ease of training: 1 is hard to train, 5 is easy
Ease of grooming: 1 is hard to groom, 5 is easy
Sociability: 1 is not social, 5 is very social
Guarding: 1 is not a good guard dog, 5 is very good guard dog
Suitable for Apartments: 1 is not suitable, 5 is very suitable
Noisiness: 1 is quiet, 5 is loud
Biting and Nipping: 1 is doesn't nip/bite, 5 high chance of biting/nipping
Energy Level: 1 is low energy, 5 is high energy
Shedding: 1 is low energy, 5 is high shedding
Affection: 1 is not very friendly, 5 is very friendly
Exercise Requirements: 1 is low exercise needed, 5 is a lot of exercise