Miniature Schnauzer – A German ratter with attitude!
How to successfully look after a Miniature Schnauzer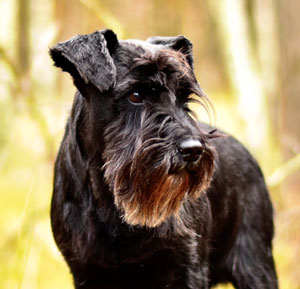 Breed Introduction
The Miniature Schnauzer originally hails from Germany, and despite its small size is actually a fierce and feisty watchdog. However, despite this it makes an ideal family pet. Bred to hunt rats, this smart little dog is always on the go. He has a distinctive wiry coat, and this is his outer coating to a small dog package that really does have it all. If you want a dog that packs intelligence, humor, affection and huge amounts of enthusiasm, then look no further. Miniature Schnauzers are loyal and protective to their owners. They also get on well with children and other household pets if introduced at an early age. The breed generally comes in three colors; salt-and-pepper, black, and black-and-silver. They also sport long bushy eyebrows and long whiskers that further enhance their appearance. However, despite their small size they can be stubborn and willful and thus need firm and consistent training. They are quite vocal and will certainly warn you of any strangers approaching their territory. The Miniature Schnauzer is the most popular of the three Schnauzer varieties and is said to have the best temperament.
Free Online Workshop On Dog Training
Join our next free online workshop and learn the secrets that the pros at the K9 Training Institute use to train service dogs to be so calm and well-behaved – and how you can use those same training methods to train YOUR dog!
Space is limited – so please reserve your spot right away.
Will a Miniature Schnauzer be a suitable dog for my family?
Will the Miniature Schnauzer be a suitable dog for my family?
Yes, if you want a very small to small sized dog (less than 15lbs – 35lbs)
If you only have a small back yard or no back yard at all
However, if you do have a back yard then it needs to be securely and visibly fenced
If you are able to spend at least 1-2 hours total per day for the feeding, exercising, training, and grooming of your dog
You want a double coated dog
If you prefer a dog that doesn't shed, but will need clipping and/or grooming regularly to keep his coat in good health. It's thought that this type of dog causes less problems for those with an allergy to pet hair
As long as the youngest person in your home (or who regularly visits) is older than 13 years of age
If you want a dog that needs average housebreaking time (approx 6-12 weeks)
You want a dog that's reasonably active as a puppy but that will settle as it matures into adulthood. This is a good choice if you need a dog that might need to be home alone during the day
As long as you don't mind a dog that can be a bit stubborn when it comes to training
If you want a dog that will bark to warn you of odd noises or strangers
The Miniature Schnauzer is a good choice for the first time dog owner
Then Miniature Schnauzer is the best suited Dog for you.
Miniature Schnauzer Stat Chart
Rating System:
Ease of training: 1 is hard to train, 5 is easy
Ease of grooming: 1 is hard to groom, 5 is easy
Sociability: 1 is not social, 5 is very social
Guarding: 1 is not a good guard dog, 5 is very good guard dog
Suitable for Apartments: 1 is not suitable, 5 is very suitable
Noisiness: 1 is quiet, 5 is loud
Biting and Nipping: 1 is doesn't nip/bite, 5 high chance of biting/nipping
Energy Level: 1 is low energy, 5 is high energy
Shedding: 1 is low energy, 5 is high shedding
Affection: 1 is not very friendly, 5 is very friendly
Exercise Requirements: 1 is low exercise needed, 5 is a lot of exercise
Breed Stat
Breed Group: Terrier Group
Size: Small,Toy or Tiny
Life span: Over 10 Years
Exercise: Up to 1 hour per day
Grooming: More than once a week
Coat length: Medium
Coat sheds?: No
Home Size: Large,Small,Flat
Garden Size: Medium,Small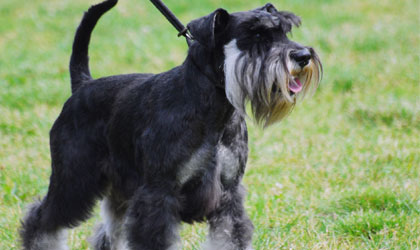 Rating System:
Ease of training: 1 is hard to train, 5 is easy
Ease of grooming: 1 is hard to groom, 5 is easy
Sociability: 1 is not social, 5 is very social
Guarding: 1 is not a good guard dog, 5 is very good guard dog
Suitable for Apartments: 1 is not suitable, 5 is very suitable
Noisiness: 1 is quiet, 5 is loud
Biting and Nipping: 1 is doesn't nip/bite, 5 high chance of biting/nipping
Energy Level: 1 is low energy, 5 is high energy
Shedding: 1 is low energy, 5 is high shedding
Affection: 1 is not very friendly, 5 is very friendly
Exercise Requirements: 1 is low exercise needed, 5 is a lot of exercise