Pembroke Welsh Corgi – The dog of Queens
Care and training specific to the Pembroke Welsh Corgi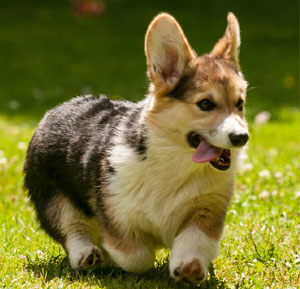 Breed Introduction
If a dog is good enough for the Queen of Great Britain, then it really must be something special. And fans of the Pembroke Welsh Corgi would certainly agree with Her Majesty. Extremely smart, they were originally bred as herding dogs. Whilst they are generally happy little dogs, well-known for their loving and loyal nature, then also have a stubborn and independent streak. However, to fans of the Corgi, this only serves to make them even more endearing. They can be on the possessive side, which in some cases can lead to snappiness and some aggression. They can be wary of strangers and will surely sound of their barking alarm if they sense that their home and family are threatened. The Pembroke Welsh Corgis can make a good family pet choice and, with the right care and training, get on well with children. However, since they have been bred as cattle dogs, they can be prone to nipping people's ankles. Like every other dog, the Pembroke needs early socialization. Exposure to different people, sounds, and situations from an early age will help your Pembroke puppy grow up to be a well-rounded dog.
Free Online Workshop On Dog Training
Join our next free online workshop and learn the secrets that the pros at the K9 Training Institute use to train service dogs to be so calm and well-behaved – and how you can use those same training methods to train YOUR dog!
Space is limited – so please reserve your spot right away.
Will a Pembroke Welsh Corgi be a suitable dog for my family?
Will a Pembroke Welsh Corgi be a suitable dog for my family?
Yes, if you want a small or medium sized dog (12-65lbs)
As long as you have at least a small sized (less than half an acre) back yard
Your back yard is well secured with a highly visible fence
If you are able to spend at least 45-60 minutes total per day for the feeding, exercising, training, and grooming of your dog
You want a short coated dog
You're happy to have a dog that sheds all year round
No-one in your house (or who visits regularly) is less than 5 years of age
If you want a dog that needs average housebreaking time (aprox 6-12 weeks)
You want a dog that is active in specific area (e.g. hunting, flyball, or agility)
Yes, if you want a dog that's easy to train
If you want a dog that will bark to warn you of odd noises or strangers
The Corgi is a great choice for the first time dog owner
Then Pembroke Welsh Corgi is the best suited Dog for you.
Pembroke Welsh Corgi Stat Chart
Rating System:
Ease of training: 1 is hard to train, 5 is easy
Ease of grooming: 1 is hard to groom, 5 is easy
Sociability: 1 is not social, 5 is very social
Guarding: 1 is not a good guard dog, 5 is very good guard dog
Suitable for Apartments: 1 is not suitable, 5 is very suitable
Noisiness: 1 is quiet, 5 is loud
Biting and Nipping: 1 is doesn't nip/bite, 5 high chance of biting/nipping
Energy Level: 1 is low energy, 5 is high energy
Shedding: 1 is low energy, 5 is high shedding
Affection: 1 is not very friendly, 5 is very friendly
Exercise Requirements: 1 is low exercise needed, 5 is a lot of exercise
Breed Stat
Breed Group: Herding Group
Size: Medium,Small
Life span: Over 10 Years
Exercise: Up to 1 hour per day
Grooming: More than once a week
Coat length: Short
Coat sheds?: Yes
Home Size: Large,Small
Garden Size: Medium,Small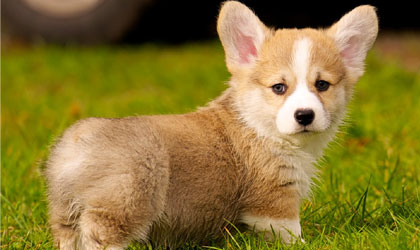 Rating System:
Ease of training: 1 is hard to train, 5 is easy
Ease of grooming: 1 is hard to groom, 5 is easy
Sociability: 1 is not social, 5 is very social
Guarding: 1 is not a good guard dog, 5 is very good guard dog
Suitable for Apartments: 1 is not suitable, 5 is very suitable
Noisiness: 1 is quiet, 5 is loud
Biting and Nipping: 1 is doesn't nip/bite, 5 high chance of biting/nipping
Energy Level: 1 is low energy, 5 is high energy
Shedding: 1 is low energy, 5 is high shedding
Affection: 1 is not very friendly, 5 is very friendly
Exercise Requirements: 1 is low exercise needed, 5 is a lot of exercise