Pomeranian – A fluffy ball of fun
Successfully looking after a Pomeranian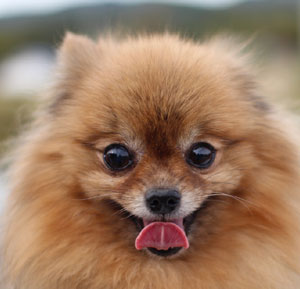 Breed Introduction
A dainty extrovert, and the smallest member of the Spitz family of dogs, the Pomeranian is known for its big personality in a small package. This little fluffball sparkles with character and friendliness. Cute and feisty, the Pom is jovial and sweet-natured breed that thrives on human companionship. However, don't let their size and cuteness lull you into a false sense of security, because these undoubtedly adorable dogs certainly have a mind of their own. They love to be carried about and handled but owners should take care not to overdo this, as this can cause them to become a bit nippy. They are loyal, dogs, naturally wary of strangers and will alert you to the approach of an intruder with prompt barking. This makes them excellent watchdogs. They can be quite vocal, especially when in groups. The breed does well in an apartment setting as long as there are plenty of things to do. The Poms are not a good choice for children. Despite their gentle and affectionate nature, care must be taken, especially with younger children, that they are not tormented or handled roughly. The Pomeranian generally gets along quite well with other dogs and household pets if trained and socialized properly, but will not hesitate to attack much larger dogs.
Free Online Workshop On Dog Training
Join our next free online workshop and learn the secrets that the pros at the K9 Training Institute use to train service dogs to be so calm and well-behaved – and how you can use those same training methods to train YOUR dog!
Space is limited – so please reserve your spot right away.
Will a Pomeranian be a suitable dog for my family?
Will a Pomeranian be a suitable dog for my family?
Yes, if you want a tiny sized dog (less than 15lbs)
If you only have a small back yard or no back yard at all
As long as your back yard (if you have one) is well secured with a highly visible fence
If you are able to spend at least 45-60 minutes total per day for the feeding, exercising, training, and grooming of your dog
As long as you want a long or double coated dog
You're prepared to have a dog that sheds all year round
All people in your house (or those who visit regularly) are all over 25 years of age
You have plenty of time and persistence to housebreak your dog
If you want a dog that's reasonably active as a puppy but will settle as it matures into adulthood. The Pom is a good choice if you want a dog that might have to be left home alone during the day
You want a dog that's generally easy to train (takes an average amount of time)
If you want a dog that will bark to warn you of odd noises or strangers
The Pomeranian is a good choice for the first time dog owner
Then Pomeranian is the best suited Dog for you.
Pomeranian Stat Chart
Rating System:
Ease of training: 1 is hard to train, 5 is easy
Ease of grooming: 1 is hard to groom, 5 is easy
Sociability: 1 is not social, 5 is very social
Guarding: 1 is not a good guard dog, 5 is very good guard dog
Suitable for Apartments: 1 is not suitable, 5 is very suitable
Noisiness: 1 is quiet, 5 is loud
Biting and Nipping: 1 is doesn't nip/bite, 5 high chance of biting/nipping
Energy Level: 1 is low energy, 5 is high energy
Shedding: 1 is low energy, 5 is high shedding
Affection: 1 is not very friendly, 5 is very friendly
Exercise Requirements: 1 is low exercise needed, 5 is a lot of exercise
Breed Stat
Breed Group: Toy Group
Size: Toy or Tiny
Life span: Over 12 Years
Exercise: Up to 30 minutes per day
Grooming: More than once a week
Coat length: Medium
Coat sheds?: Yes
Home Size: Large,Small,Flat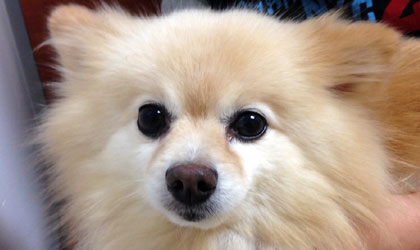 Rating System:
Ease of training: 1 is hard to train, 5 is easy
Ease of grooming: 1 is hard to groom, 5 is easy
Sociability: 1 is not social, 5 is very social
Guarding: 1 is not a good guard dog, 5 is very good guard dog
Suitable for Apartments: 1 is not suitable, 5 is very suitable
Noisiness: 1 is quiet, 5 is loud
Biting and Nipping: 1 is doesn't nip/bite, 5 high chance of biting/nipping
Energy Level: 1 is low energy, 5 is high energy
Shedding: 1 is low energy, 5 is high shedding
Affection: 1 is not very friendly, 5 is very friendly
Exercise Requirements: 1 is low exercise needed, 5 is a lot of exercise