Rhodesian Ridgeback – The lion hunter tamed…
Training advice for the Rhodesian Ridgeback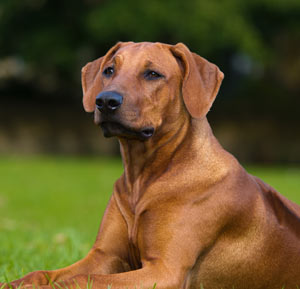 Breed Introduction
Powerful and brave, the Ridgeback makes an excellent family dog, and is much loved by all who see this distinctive breed. With a long history, the Ridgeback was originally bred in South Africa to track, corner and hold big game prey, such as lions, bears and boar. They are still used for hunting in some corners of the world and some members of the breed have even adapted to pointing and retrieving. However, they are most commonly seen as a family pet nowadays. This versatile dog has a strong desire to please, and also is very committed to the pack law. And as dogs in captivity regard their humans as their pack, they can be a delightful addition to any family. They are smart and confident, but can be quite determined and stubborn, meaning that training a Ridgeback can be a challenge as they have a tendency to exhibit dominance. It's recommended that the Ridgeback is socialized and introduced to some basic training from a very young age. They need an experienced owner who can exert his dominance as 'pack leader.'. The most territorial member of the hound family, Ridgebacks make extra effort to protect the most 'soft target' of the pack, i.e. children, but they are very wary of strangers.
Free Online Workshop On Dog Training
Join our next free online workshop and learn the secrets that the pros at the K9 Training Institute use to train service dogs to be so calm and well-behaved – and how you can use those same training methods to train YOUR dog!
Space is limited – so please reserve your spot right away.
Will a Rhodesian Ridgeback be a suitable dog for my family?
Will a Rhodesian Ridgeback be a suitable dog for my family?
Yes if you want a large sized dog (60-120lbs+)
As long as you have a back yard of at least 1 1/2 acres in size
If the yard is secured with a highly visible fence
If you are able to spend at least 45-60 minutes total per day for the feeding, exercising, training, and grooming of your dog
You want a smooth coated dog
You're happy to have a dog that sheds all year round
The youngest person in your home (or who visits regularly) is older than 13 years of age
You have plenty of time and persistence to housebreak your dog
If you want a dog that's active in specific area (e.g. hunting, flyball, or agility)
You don't mind a dog that's a bit stubborn when it comes to training issues
If you want a dog that will defend you or your property if necessary
You've had previous experience of owning dogs
Then Rhodesian Ridgeback is the best suited Dog for you.
Rhodesian Ridgeback Stat Chart
Rating System:
Ease of training: 1 is hard to train, 5 is easy
Ease of grooming: 1 is hard to groom, 5 is easy
Sociability: 1 is not social, 5 is very social
Guarding: 1 is not a good guard dog, 5 is very good guard dog
Suitable for Apartments: 1 is not suitable, 5 is very suitable
Noisiness: 1 is quiet, 5 is loud
Biting and Nipping: 1 is doesn't nip/bite, 5 high chance of biting/nipping
Energy Level: 1 is low energy, 5 is high energy
Shedding: 1 is low energy, 5 is high shedding
Affection: 1 is not very friendly, 5 is very friendly
Exercise Requirements: 1 is low exercise needed, 5 is a lot of exercise
Breed Stat
Breed Group: Hound Group
Size: Large
Life span: Over 10 Years
Exercise: More than 2 hours per day
Grooming: Once a week
Coat length: Short
Coat sheds?: Yes
Home Size: Large
Garden Size: Large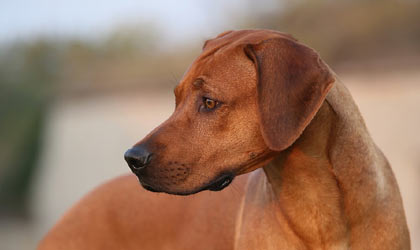 Rating System:
Ease of training: 1 is hard to train, 5 is easy
Ease of grooming: 1 is hard to groom, 5 is easy
Sociability: 1 is not social, 5 is very social
Guarding: 1 is not a good guard dog, 5 is very good guard dog
Suitable for Apartments: 1 is not suitable, 5 is very suitable
Noisiness: 1 is quiet, 5 is loud
Biting and Nipping: 1 is doesn't nip/bite, 5 high chance of biting/nipping
Energy Level: 1 is low energy, 5 is high energy
Shedding: 1 is low energy, 5 is high shedding
Affection: 1 is not very friendly, 5 is very friendly
Exercise Requirements: 1 is low exercise needed, 5 is a lot of exercise