Rottweiler – The beast with a heart of gold
How to care and train a Rottweiler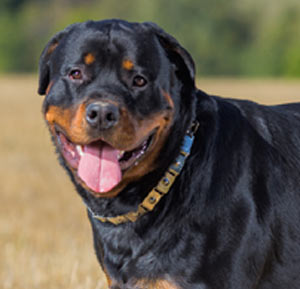 Breed Introduction
The Rottweiler, affectionately known as the Rottie, is a strong, fearsome looking dog within which beats a truly loving heart. Seemingly fearless, they are renowned for providing undying protection to the owner. However, contrary to popular opinion, are not aggressive by nature. Their expression is tranquil and kind, but may become ferocious if aroused. Early socialization is a must to channel the power and over protectiveness of the breed. This is a highly active dog and thus needs plenty of exercise. Rotties can be easily obedience trained, if firm, consistent training methods are used and a leadership that he can trust and respect is provided. This breed is not for the inexperienced owners and has been much maligned in recent years due to improper training, leading to aggression. Failing to carefully train him for a gentle, steady temperament, a dog as powerful and intelligent as the Rottweiler can simply be a recipe for disaster. However, a well-bred, well-socialized Rottie is gentle and loving to their families and can make an excellent companion.
Free Online Workshop On Dog Training
Join our next free online workshop and learn the secrets that the pros at the K9 Training Institute use to train service dogs to be so calm and well-behaved – and how you can use those same training methods to train YOUR dog!
Space is limited – so please reserve your spot right away.
Will a Rottweiler be a suitable dog for my family?
Will a Rottweiller be a suitable dog for my family?
Yes, if you want a large sized dog (60-120lbs+)
You have at least 1 1/2 acres of back yard for your dog to run in
It doesn't matter if your back yard is secured or not
If you are able to spend at least 45-60 minutes to 1-2 hours total per day for the feeding, exercising, training, and grooming of your dog
You want a medium coated dog
You're happy to have a dog that sheds all year round
No-one in your house (or that visits regularly) is less than 13 years of age
If you want a dog that needs average housebreaking time (approx 6-12 weeks)
Ideally you want a dog that's reasonably active as a puppy but settles as he matures into adulthood. A Rottie is a good choice if you need a dog that can be left home alone during the day
You don't mind a dog that can be a little stubborn when it comes to training issues
If you want a dog that will defend you or your property if necessary
You have previous experience of owning dogs or currently own a dog
Then Rottweiler is the best suited Dog for you.
Rottweiler Stat Chart
Rating System:
Ease of training: 1 is hard to train, 5 is easy
Ease of grooming: 1 is hard to groom, 5 is easy
Sociability: 1 is not social, 5 is very social
Guarding: 1 is not a good guard dog, 5 is very good guard dog
Suitable for Apartments: 1 is not suitable, 5 is very suitable
Noisiness: 1 is quiet, 5 is loud
Biting and Nipping: 1 is doesn't nip/bite, 5 high chance of biting/nipping
Energy Level: 1 is low energy, 5 is high energy
Shedding: 1 is low energy, 5 is high shedding
Affection: 1 is not very friendly, 5 is very friendly
Exercise Requirements: 1 is low exercise needed, 5 is a lot of exercise
Breed Stat
Breed Group: Working Group
Size: Large
Life span: Over 10 Years
Exercise: More than 2 hours per day
Grooming: Once a week
Coat length: Short
Coat sheds?: Yes
Home Size: Large
Garden Size: Large

Rating System:
Ease of training: 1 is hard to train, 5 is easy
Ease of grooming: 1 is hard to groom, 5 is easy
Sociability: 1 is not social, 5 is very social
Guarding: 1 is not a good guard dog, 5 is very good guard dog
Suitable for Apartments: 1 is not suitable, 5 is very suitable
Noisiness: 1 is quiet, 5 is loud
Biting and Nipping: 1 is doesn't nip/bite, 5 high chance of biting/nipping
Energy Level: 1 is low energy, 5 is high energy
Shedding: 1 is low energy, 5 is high shedding
Affection: 1 is not very friendly, 5 is very friendly
Exercise Requirements: 1 is low exercise needed, 5 is a lot of exercise