Saint Bernard – So good they made a saint of him…
Best practice in looking after the Saint Bernard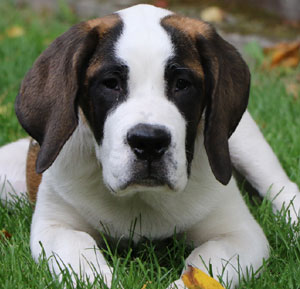 Breed Introduction
The St. Bernard, savior of the Swiss Alps, is one of the most instantly recognizable breeds. This gentle giant is powerful, versatile and has a sixth sense in regard to impending danger, especially upcoming blizzards or avalanches. The breed is known for its steady, benevolent temperament. Saints are jovial, friendly, affectionate, welcoming and love to cozy up to their pack, making them a wonderful family companion. They are gentle and patient with children, but small children should not be left alone with a Saint Bernard without supervision due to the breed's large size. They also easily get along with other household pets. This breed is loyal and intelligent, but is a slow, deep thinker. Because of this, they require a lot of understanding from their owners during training. The St. Bernard takes up a huge amount of space in any position. They drool a lot so get ready for a messy welcome. They're not aggressive and will rarely bark. Due to their friendly nature, this dog doesn't excel as a guard dog but their size alone is enough to scare away potential intruders.
Free Online Workshop On Dog Training
Join our next free online workshop and learn the secrets that the pros at the K9 Training Institute use to train service dogs to be so calm and well-behaved – and how you can use those same training methods to train YOUR dog!
Space is limited – so please reserve your spot right away.
Will a Saint Bernard be a suitable dog for my family?
Will a Saint Bernard be a suitable dog for my family?
Yes, if you want a large sized dog (60-120lbs+)
Whether you have a large back yard, small back yard or no back yard at all
It doesn't matter if your back yard (if you have one) is secure or not
If you are able to spend at least 1-2 hours total per day for the feeding, exercising, training, and grooming of your dog
You want a dog with a long or double coat
You're happy to have a dog that sheds all year round
No person in your home (or that visits regularly) is younger than 5 years of age
You want a dog that takes an average amount of time to housebreak (approx 6-12 weeks)
If you want a dog whose activity level is sedentary (e.g. a dog that is happy simply lying around most of the time)
You want a dog that's generally easy to train
If you want a dog that will bark to warn you of odd noises or strangers
You have previous experience of dog ownership or presently own a dog
Then Saint Bernard is the best suited Dog for you.
Saint Bernard Stat Chart
Rating System:
Ease of training: 1 is hard to train, 5 is easy
Ease of grooming: 1 is hard to groom, 5 is easy
Sociability: 1 is not social, 5 is very social
Guarding: 1 is not a good guard dog, 5 is very good guard dog
Suitable for Apartments: 1 is not suitable, 5 is very suitable
Noisiness: 1 is quiet, 5 is loud
Biting and Nipping: 1 is doesn't nip/bite, 5 high chance of biting/nipping
Energy Level: 1 is low energy, 5 is high energy
Shedding: 1 is low energy, 5 is high shedding
Affection: 1 is not very friendly, 5 is very friendly
Exercise Requirements: 1 is low exercise needed, 5 is a lot of exercise
Breed Stat
Breed Group: Working Group
Size: Large
Life span: Under 10 Years
Exercise: Up to 1 hour per day
Grooming: More than once a week
Coat length: Short
Coat sheds?: Yes
Home Size: Large
Garden Size: Medium,Small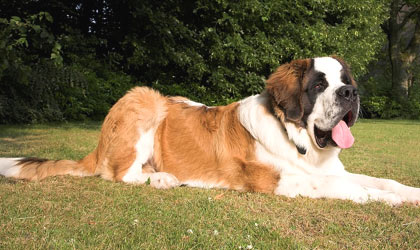 Rating System:
Ease of training: 1 is hard to train, 5 is easy
Ease of grooming: 1 is hard to groom, 5 is easy
Sociability: 1 is not social, 5 is very social
Guarding: 1 is not a good guard dog, 5 is very good guard dog
Suitable for Apartments: 1 is not suitable, 5 is very suitable
Noisiness: 1 is quiet, 5 is loud
Biting and Nipping: 1 is doesn't nip/bite, 5 high chance of biting/nipping
Energy Level: 1 is low energy, 5 is high energy
Shedding: 1 is low energy, 5 is high shedding
Affection: 1 is not very friendly, 5 is very friendly
Exercise Requirements: 1 is low exercise needed, 5 is a lot of exercise