Vizsla – The Hungarian Noble's favorite…
Tips for caring and owning a Vizsla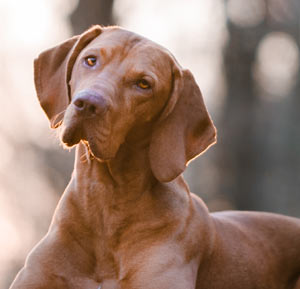 Breed Introduction
Versatile, stylish and dignified, the Vizsla, often referred to as the "Velcro Vizsla." is one of the most favored breeds of the early Hungarian nobility. A lively and gentle breed that has proven itself to be a truly trustworthy companion. Thanks to their energy levels, they need an active family who can provide them with enough exercise, as well as the companionship they thrive on. Give your Vizsla a job to do and he will be a happy dog. However, leave him to his own devices for hours on end and he'll soon become bored and boistrous. They bond very closely with their family and will be found following their 'pack' from room to room or just serving as a foot warmer. They also love to play games and mouth everything they come into contact with. The Vizsla excels as watchdog due to his keen senses and protective instinct. Training and socialization at an early age is a must for this breed, as they can become shy and timid if not socialized properly.
Free Online Workshop On Dog Training
Join our next free online workshop and learn the secrets that the pros at the K9 Training Institute use to train service dogs to be so calm and well-behaved – and how you can use those same training methods to train YOUR dog!
Space is limited – so please reserve your spot right away.
Will a Vizsla be a suitable dog for my family?
Will a Vizsla be a suitable dog for my family?
Yes, if you want a medium sized dog (30-65lbs)
You have at least a small yard (less than half an acre) for your dog to run in
The yard is well secured with highly visible fencing
If you are able to spend at least 45-60 minutes total per day for the feeding, exercising, training, and grooming of your dog
You want a smooth coated dog
You're happy to have a dog that sheds on a year round basis
No-one in your home (or who visits regularly) is below the age of 5 years
If you want a dog that needs average housebreaking time – (6-12 wks)
You want a dog who's very active and will join in with your activities (e.g. jog with you, play active games, go hiking, etc.)
Your ideal dog will be generally easy to train (will take an average amount of time)
If you want a dog that will bark to warn you of odd noises or strangers
You have previous experience of owning dogs
Then Vizsla is the best suited Dog for you.
Vizsla Stat Chart
Rating System:
Ease of training: 1 is hard to train, 5 is easy
Ease of grooming: 1 is hard to groom, 5 is easy
Sociability: 1 is not social, 5 is very social
Guarding: 1 is not a good guard dog, 5 is very good guard dog
Suitable for Apartments: 1 is not suitable, 5 is very suitable
Noisiness: 1 is quiet, 5 is loud
Biting and Nipping: 1 is doesn't nip/bite, 5 high chance of biting/nipping
Energy Level: 1 is low energy, 5 is high energy
Shedding: 1 is low energy, 5 is high shedding
Affection: 1 is not very friendly, 5 is very friendly
Exercise Requirements: 1 is low exercise needed, 5 is a lot of exercise
Breed Stat
Breed Group: Sporting Group
Size: Medium
Life span: Over 10 Years
Exercise: More than 2 hours per day
Grooming: Once a week
Coat length: Short
Coat sheds?: Yes
Home Size: Large
Garden Size: Large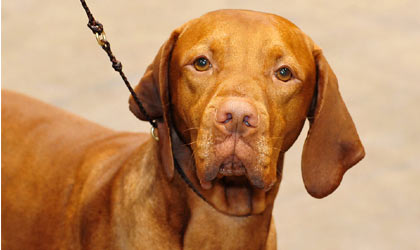 Rating System:
Ease of training: 1 is hard to train, 5 is easy
Ease of grooming: 1 is hard to groom, 5 is easy
Sociability: 1 is not social, 5 is very social
Guarding: 1 is not a good guard dog, 5 is very good guard dog
Suitable for Apartments: 1 is not suitable, 5 is very suitable
Noisiness: 1 is quiet, 5 is loud
Biting and Nipping: 1 is doesn't nip/bite, 5 high chance of biting/nipping
Energy Level: 1 is low energy, 5 is high energy
Shedding: 1 is low energy, 5 is high shedding
Affection: 1 is not very friendly, 5 is very friendly
Exercise Requirements: 1 is low exercise needed, 5 is a lot of exercise