Yorkshire Terrier – Feisty, fun and a bundle of mischief
Looking after the Yorkshire Terrier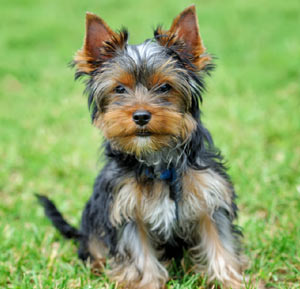 Breed Introduction
British born and bred, the Yorkie is a small dog with a big attitude. Though a toy breed, the way Yorkies carry themselves seems to reflect the fact that this little courageous terrier is apparently ignorant of his diminutive stature. Yorkies tend to make some of the most lovable and affectionate companions you could ever hope to own. They are typically feisty, delightful, and just mischievous enough to be considered cute. However, the breed standard talks of their territorial nature. Yorkies are terriers after all, and will use their protective instincts valiantly if they feel that their family or territory is threatened. It's up to the owner to channel their energies in a positive direction through training and early socialization. Their acute sense of hearing, ample courage and desire to ward off the intruders make them a good watchdog. However, due to the tiny size of the breed, the Yorkie has withered away to nothing more than an early alert system or rather a 'yappy' breed of dog. Yorkies are not naturally good with kids and must only be left with supervision.
Free Online Workshop On Dog Training
Join our next free online workshop and learn the secrets that the pros at the K9 Training Institute use to train service dogs to be so calm and well-behaved – and how you can use those same training methods to train YOUR dog!
Space is limited – so please reserve your spot right away.
Will a Yorkshire Terrier be a suitable dog for my family?
Will a Yorkshire Terrier be a suitable dog for my family?
Yes, if you want a tiny dog (under 15lbs)
Whatever size of back yard you have, or if you have no back yard at all
And if you do have a back yard, whether it is securely fenced or not
If you are able to spend at least 1-2 hours total per day for the feeding, exercising, training, and grooming of your dog
You want a dog with a long coat
Ideally you want a dog that doesn't shed, but you will need to groom/clip the coat regularly to keep it in good condition. It's believed that this type of dog causes less problems for humans with pet hair allergies
As long as everyone in your house (or who visits regularly) is over the age of 25
You have plenty of time and persistence to spend housebreaking your dog
You want a dog that's active as a puppy but that settles as he becomes an adult. The Yorkie is a good choice for a dog that needs to be left home alone during the day
If you don't mind a dog that can be a little stubborn when it comes to training
You want a dog that will bark to warn you of odd noises or strangers
The Yorkie is a great choice for the first time dog owner
Then Yorkshire Terrier is the best suited Dog for you.
Yorkshire Terrier Stat Chart
Rating System:
Ease of training: 1 is hard to train, 5 is easy
Ease of grooming: 1 is hard to groom, 5 is easy
Sociability: 1 is not social, 5 is very social
Guarding: 1 is not a good guard dog, 5 is very good guard dog
Suitable for Apartments: 1 is not suitable, 5 is very suitable
Noisiness: 1 is quiet, 5 is loud
Biting and Nipping: 1 is doesn't nip/bite, 5 high chance of biting/nipping
Energy Level: 1 is low energy, 5 is high energy
Shedding: 1 is low energy, 5 is high shedding
Affection: 1 is not very friendly, 5 is very friendly
Exercise Requirements: 1 is low exercise needed, 5 is a lot of exercise
Breed Stat
Breed Group: Toy Group
Size: Toy or Tiny
Life span: Over 12 Years
Exercise: Up to 30 minutes per day
Grooming: Every day
Coat length: Long
Coat sheds?: No
Home Size: Large,Small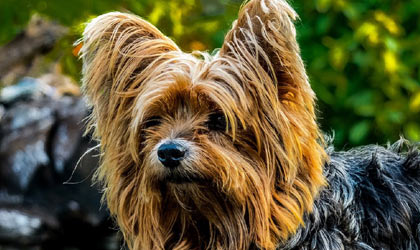 Rating System:
Ease of training: 1 is hard to train, 5 is easy
Ease of grooming: 1 is hard to groom, 5 is easy
Sociability: 1 is not social, 5 is very social
Guarding: 1 is not a good guard dog, 5 is very good guard dog
Suitable for Apartments: 1 is not suitable, 5 is very suitable
Noisiness: 1 is quiet, 5 is loud
Biting and Nipping: 1 is doesn't nip/bite, 5 high chance of biting/nipping
Energy Level: 1 is low energy, 5 is high energy
Shedding: 1 is low energy, 5 is high shedding
Affection: 1 is not very friendly, 5 is very friendly
Exercise Requirements: 1 is low exercise needed, 5 is a lot of exercise