Whether you call it virtual training, online training, or anything else, e-dog training usually refers to training sessions that take place "electronically", rather than in-person. Everything from online workshops to one-on-one Zoom calls can be classified as e-dog training, and this sector has been growing extremely rapidly since the pandemic begin.
However, as with any new concept in the dog training world, many are skeptical. Is e-dog training really a match for physical, real-life classes? How does it even work?
Wonder no more – you're about to find out…
The Benefits of E-Dog Training
E-dog training has been around for a while, although Covid-19 has made it even more popular. However, even with restrictions lifting in many areas, those who have tried e-dog training are still favoring it over real-life classes.
Once you understand the benefits of virtual dog training, it's easy to see why…
For starters, e-dog training is convenient. It can be done any day, any time, making it easy to squeeze a session into a busy schedule. It's also usually much cheaper than conventional training, not only when it comes to the classes themselves, but also in terms of saving you time and fuel money traveling back and forth.
Even better, e-dog training can be applied to just about any dog. If your dog is reactive, fearful, aggressive, or even just un-vaccinated, none of this matters when you're doing an e-dog training course.
How Does E-Dog Training Actually Work?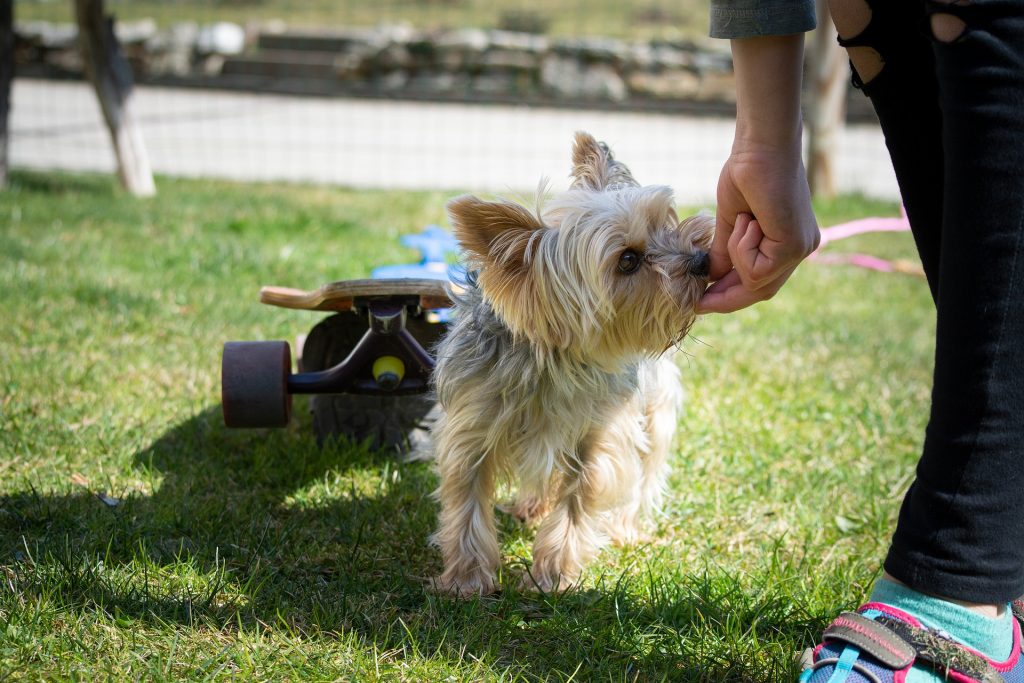 There are several different styles of e-dog training, but they all basically provide methods that you can use for dog training at home.
General workshops are great for the basics. Whether you're trying to housebreak your new puppy, leash train a rescue dog, or teach your older pooch some house manners, an e-dog training workshop gives you the training knowledge that you need. You can then work through this in your own time, taking things at your dog's pace.
However, e-dog training can help with serious issues too. Whether it may be aggression, fear when in public, or dog-to-dog reactivity, you'll be able to find a trainer that specializes in this. E-dog training gives you access to the best trainers all over the world. You'll be able to find the perfect one much more easily, since you won't be restricted by location.
In serious behavioral cases, many trainers choose to work with their clients via video call. This gives them the chance to see how your dog responds to various commands, as well as to your body language in general.
Dog Training at Home
Granted, with e-dog training, your dog won't have the opportunity to socialize with others. However, dog training at home should always be your first step. A dog that's confident and responding well to certain commands at home will be much easier to socialize when out and about.
Don't forget that, in many cases, it's not only the dog that needs to be trained. In order to properly train a dog, the owner also needs to know what they're doing. Rather than taking your dog to a class where a trainer teaches your dog how to behave, e-dog training teaches you how to best train your dog.
Choosing an E-Dog Training Course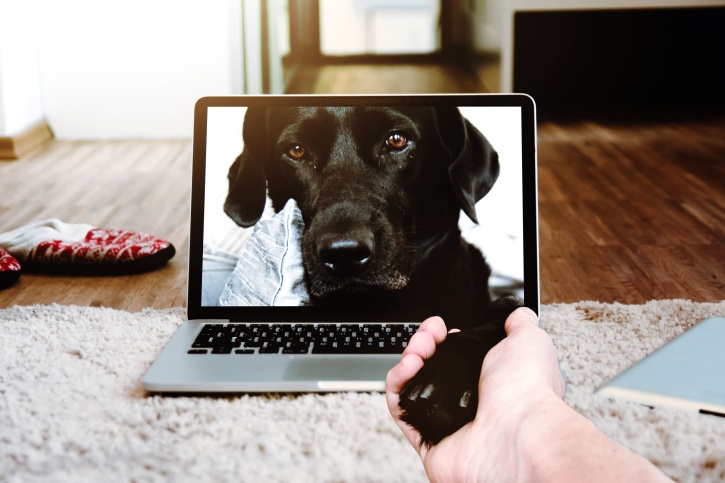 This is where things become a little more complicated. As mentioned, since Covid-19 began, e-dog training has soared in popularity. While there may be plenty of qualified trainers out there offering this, there are also just as many frauds.
So, how do you pick a good e-dog training course/trainer?
Start by taking a look at the trainer's qualifications. If you can't find this information anywhere, then that's not a good sign.
Then, take a look at the training methods that the course you're considering uses. Ideally, pick one that makes use of positive training methods as much as possible. Anything aversive could set you and your dog back, while also damaging your bond and destroying your dog's confidence.
All good e-dog training courses will make this information easy to find. If the trainer you're looking into has a blog, this is another good way to learn more about how they think and train. Many will also offer a free trial or a free workshop of some sort. This is an opportunity to see how their training methods work for you before you hand any money over.
Summary
While real-life dog training classes do have some advantages, e-dog training is also very worthwhile. In an ideal situation, you would do both. E-dog training will make dog training at home so much simpler, while a physical training class will help to expose your dog to training in a different environment, with other dogs and people around. Combining the two is beneficial, but, if you're not able to attend real-life classes for whatever reason, then e-dog training is definitely the best way forward.