Many people shy away from training an aggressive dog, choosing to ignore the problem instead. However, this only makes things worse. An aggressive dog that isn't trained will be near-impossible to communicate with, let alone control. While it's always important to work one-on-one with a professional trainer when dealing with aggression, here are a few aggressive dog training tips that you can implement yourself.
Don't Ignore Aggression
Dog training for aggressive dogs isn't easy. However, before you get started, you need to remember to never ignore any sign of aggression from your dog. This is one of the most crucial aggressive dog training tips you'll hear.
Dogs can be aggressive for a number of reasons. They could simply be poorly socialized, or maybe fearful. Some may be possessive, while others could be protective and territorial. Dogs who are suddenly displaying aggressive behavior out of the blue may also be in pain. A vet check should always be the first step when a dog suddenly starts to act differently.
Dogs show aggression in different ways. Some growl, others bark and show teeth, and the most serious cases will lunge, nip, or even repeatedly bite. However, most dogs will always show a warning sign first, and this is what you'll need to familiarize yourself with. This gives you the opportunity to divert and prevent any aggression before it actually begins.
Enlist the Help of a Professional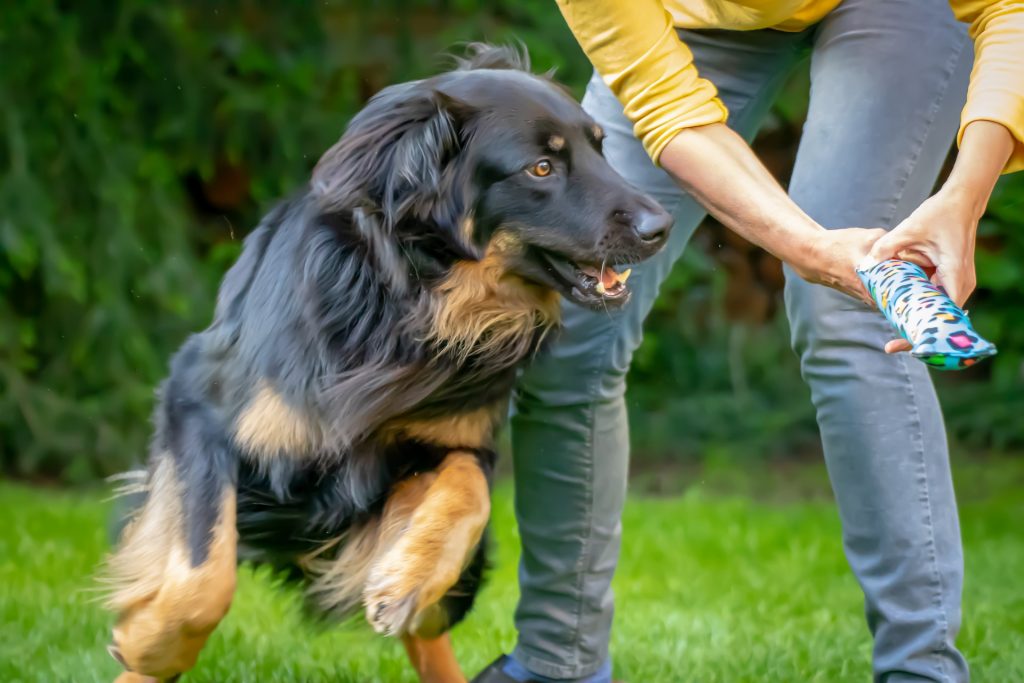 As mentioned, it's always worth working with a professional trainer when looking into dog training for aggressive dogs. This is especially the case if you feel that your dog could cause harm to another person or animal.
A professional trainer will first help you to figure out exactly why your dog is being aggressive. They'll teach you the warning signs to look out for, and, more importantly, come up with a plan for how to curb the behavior.
Always Train with Positive Reinforcement
There are numerous training methods and styles out there. However, when dog training for aggressive dogs, you need to go with positive reinforcement. This method rewards a dog for good behavior, which then encourages them to perform that action again.
Treats are the easiest reward to use. However, some dogs prefer toys, while others are happy with praise and a good belly rub. Find out what motivates your dog the most and then use that as a reward. 
Avoid Punishing Aggressive Behavior
Imagine this scenario: you're at home with your dog and he starts to feel insecure about something, leading to him growling at you. Your automatic reaction may be to jump up and start shouting at him.
There are two possible outcomes here. The first is that your dog will react defensively by lashing out at you. The second is that your dog will back down in fear. However, he'll remember the incident and will know that he was punished for growling. As a result, the next time he feels insecure, he'll skip the growl and go straight for a bite instead.
Neither of these outcomes are what you want. Instead, you should be working on preventing that aggression to begin with. Work with your dog on whatever it is that causes him to feel insecure, to the point where he needs to be aggressive. If things start to feel dangerous, simply remove yourself from the situation. This doesn't mean that your dog has "won" – it means that he has effectively communicated with you and you've respected what he's trying to tell you. You'll be able to learn from that situation and prevent it from happening again.
Muzzle Train Your Dog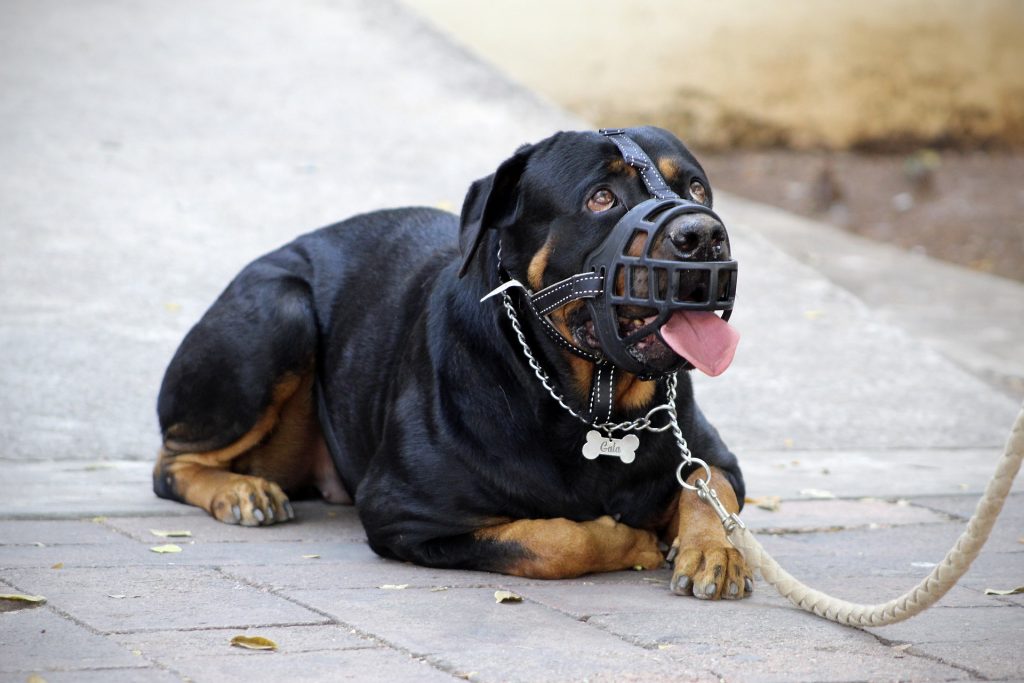 Just about all aggressive dog training tips out there will tell you to double leash your dog when out walking. A leash attached to a collar, along with a leash attached to a harness, will give you better control.
However, this isn't completely foolproof. There's still a chance that your dog could get away from you and possibly cause injury to another person. If this happens, the authorities will likely get involved, which could result in your dog being seized, and even put down.
Granted, this is the worst-case scenario, but it happens more often than you'd realize. The best way to prevent this from occurring is by muzzling your dog. This way, if he does manage to get away, he won't actually be able to bite anyone.
Muzzle training takes time, but, with positive reinforcement methods, most dogs start accepting the muzzle in just a few days.
Summary
Dog training for aggressive dogs isn't simple. Get things wrong and it could be downright dangerous, which is why the help of a professional should always be sought. There are many aggressive dog training tips out there, but it's important to get to the root of your dog's aggression first. Once you and your trainer have made a plan and have started working on things, you should notice improvements pretty quickly. While your dog may be aggressive now, it doesn't need to be this way forever, especially if you're willing to put the work in.